Read how our regular blogger Maria fared with the Festive 500, riding 500km between Christmas Eve and New Year's Eve on rail trails around England
As has been the tradition for the last nine years, thousands of riders set out to complete the Rapha Festive 500.
This ritual of countering the festive binge through riding 500km between Christmas Eve and New Year's Eve has been tackled in different ways – be it a London to Paris bike ride (and back), riding 31 times around a 10-mile time trial course, or just going on group rides locally.  
I decided to do mine by going off-road and traffic-free as much as possible.
I knew it would be challenging, mainly because off-road miles can be slow-going, and it was highly likely that I would be cycling on cold dark evenings, given the short days.
Day 1 – Avon and Somerset - 68km
Having raced the previous day in pouring rain in a cyclocross race at the Mendips Raceway, I was feeling slightly worn out and my shoes were still a little damp.
I had felt slightly anxious at the start of my day, but all that worry had been for nothing
From my start-point at Easton in Gordano, just outside Bristol I headed to Portishead, along a trail known as the Sheepway, part of the Avon Cycleway network. This was well signposted and along a gravel trail.
I was on a bike well suited for the conditions, a Cube Nuroad WS gravel bike. It had Schwalbe G-One gravel tyres, meaning that it would be grip the trails pretty well and I had no worries about the terrain that I would encounter during the ride.
Knowing that conditions could potentially be wet, I took no risks and put some clip-on mud guards on the bike.
Portishead was pretty, though very busy as people were getting in their last-minute purchases before Christmas. It was tempting to stay there and have a mulled wine while listening to carol singers, but I needed to push on to Bristol.
My route took me over the very steep Naish hill, followed by an undulating road to the Ashton Court Estate where I followed a trail through the grounds. This is definitely an area worth revisiting in the future, particularly to explore the mountain bike trails.  
Bristol to Bath Cycle Path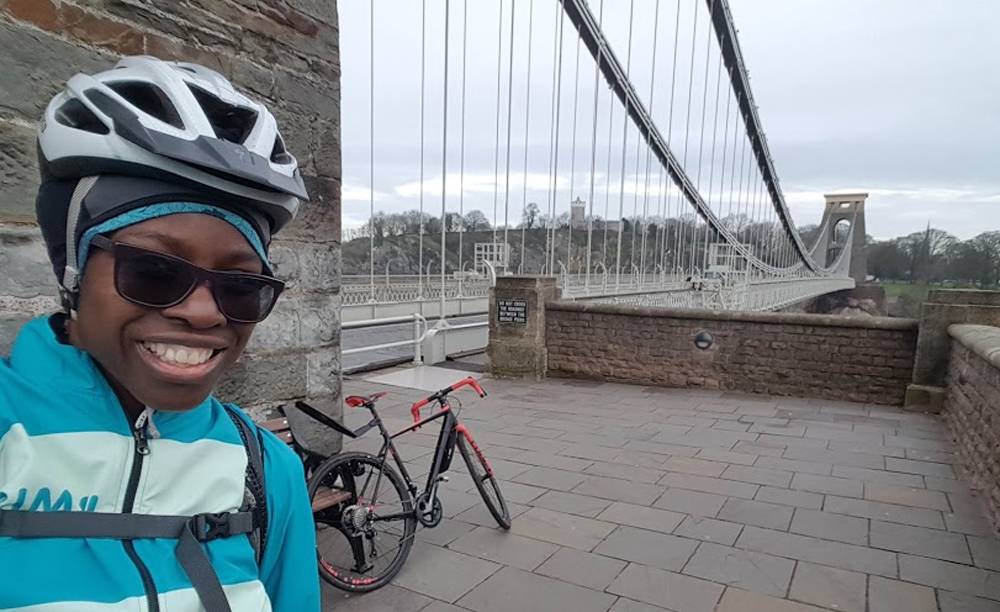 After crossing the iconic Clifton Suspension Bridge (above) I arrived in the Bristol city centre where I picked up my first official rail trail – the Bristol to Bath cycle path. This is roughly 15 miles long and is beautifully tarmacked.
It is definitely a well-used route, not just by commuters, but by people doing training rides. Along the trail, I saw a rider from the Team Sunweb women's squad, Pfeiffer Georgi.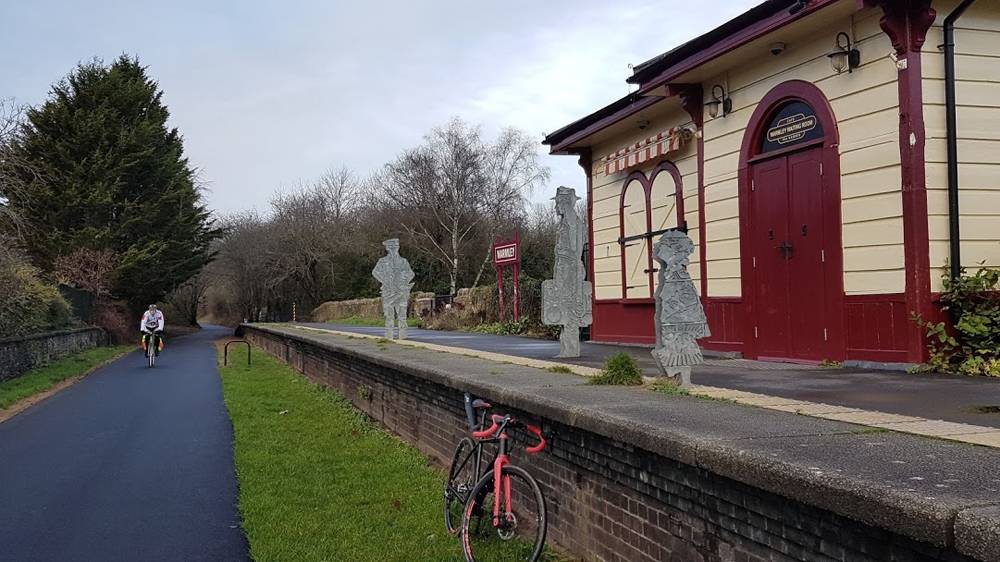 Along the trail (above) are various connections to other bridleways and trails to explore the area and it is well signposted. There are also areas to stop for a snack or picnics.
River Avon Trail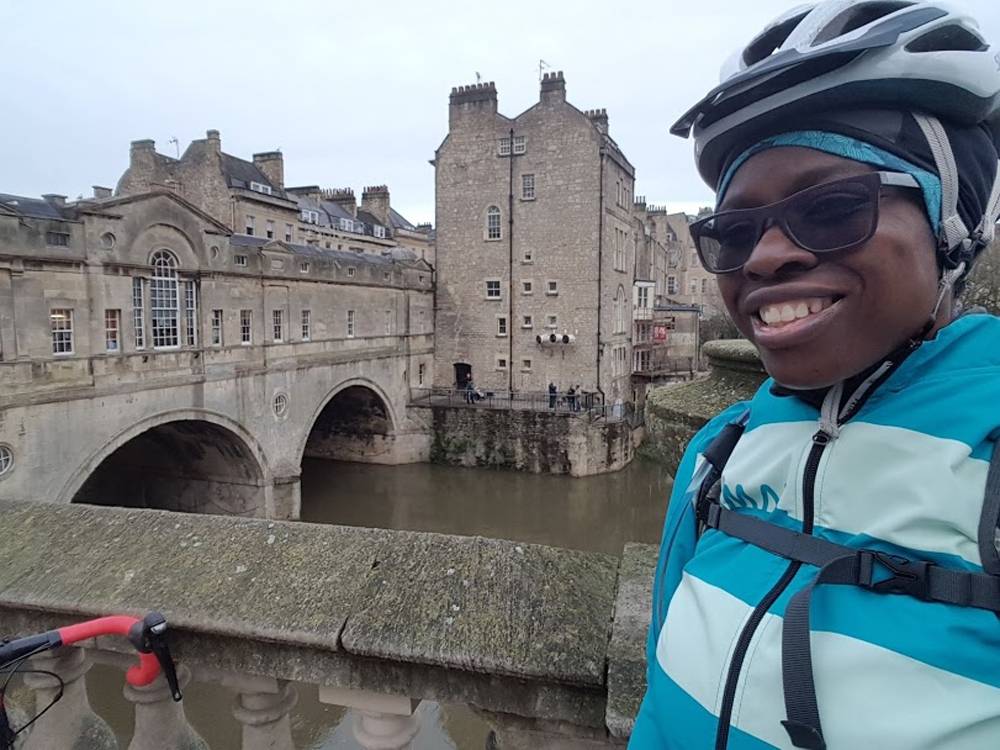 On my arrival in Bath (pictured) I had just enough time to do a quick tour of the beautiful town with its regency architecture before jumping on a train to get back to Bristol Temple Meads. From there I rode back to my car in Easton in Gordano via the River Avon Trail - in the dark.
Although I didn't get to see the full beauty of the area, what was impressive was the shadow of Clifton Suspension Bridge towering over me as I wound my way through the Avon Gorge.
This stretch lasted around 10 miles, and I was glad to have decent lights to help me find my way. Commuter lights wouldn't be enough here. I used Exposure Race MK13 lights, and they were exactly what was needed!
Being in an unfamiliar area and using new equipment, I had felt slightly anxious at the start of my day, but all that worry had been for nothing, and in the end my first day of the Rapha Festive 500 had been quite a pleasant one.
Day 2 – London - 64km
It was Christmas Day so I was at home, and I didn't intend straying very far. Although there were no rail trails nearby in South London, I still did a traffic-free route taking in the Waterlink Way, which goes from Beckenham to Lewisham via paths along the River Ravensbourne, crossing parks.
From there I followed quiet ways that took me to Greenwich and I went north of the River via the foot tunnel.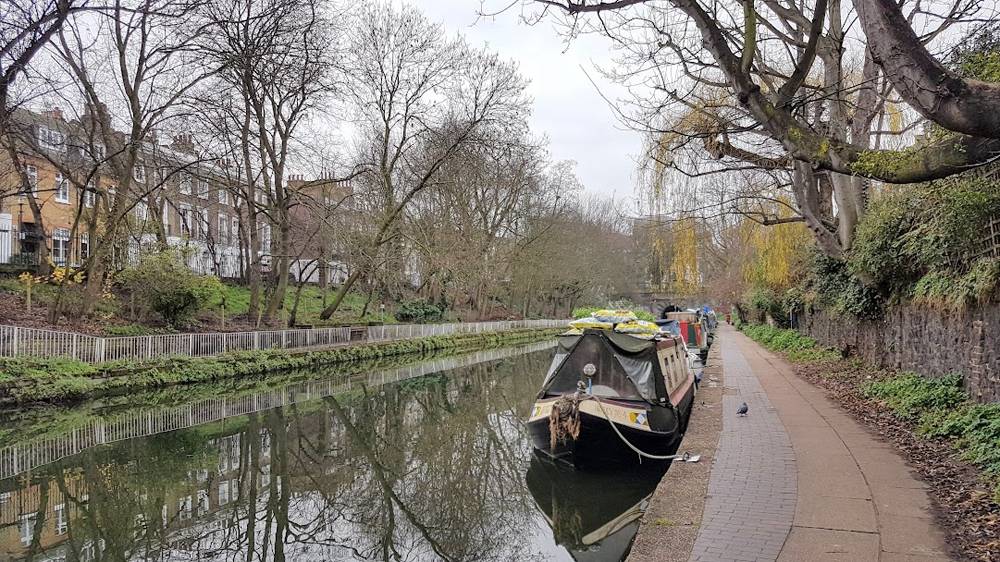 After a short stretch along the Thames Path and through Tower Hamlets I arrived at the Hertford Union Canal and the Regent's Canal (above) which took me all the way into Central London.
This was an enjoyable ride through London, and I didn't feel ready to go home just yet when I reached King's Cross, so I took the road north to Highgate, and then Hampstead Heath. The bike was put to the test along the Heath, as parts of the trail were waterlogged and it was pretty hilly.
I would recommend visiting the harbour now before it becomes an unwieldy monstrosity
Some of the afternoon walkers were quite impressed to see me even attempting the climbs let alone cresting them!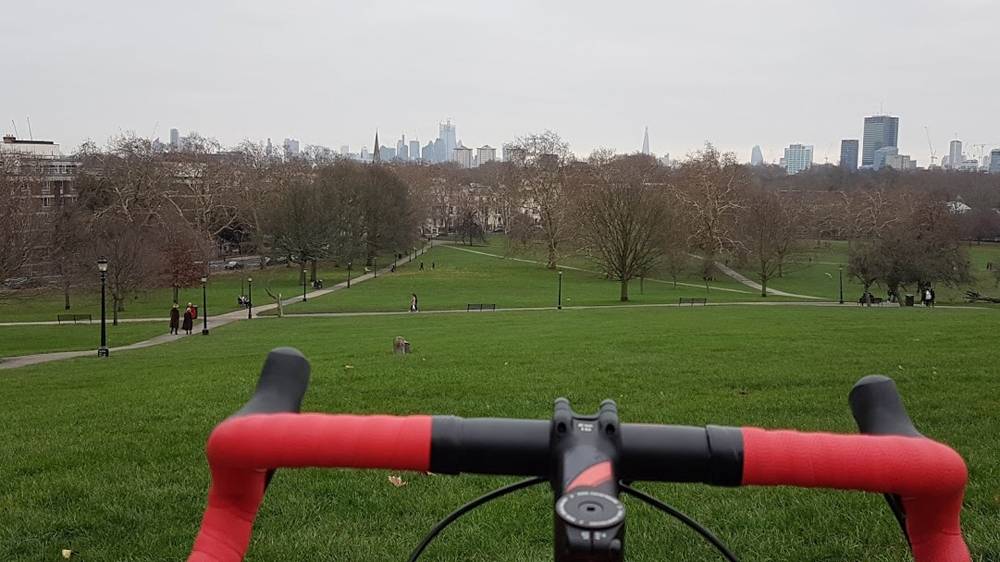 Eventually I returned home via Primrose Hill (pictured), Regent's Canal and across the Royal Parks before crossing Clapham Common and heading homewards to enjoy my meal.
During this ride through South, East, Central and North London I had spent around 80% of the time on traffic-free paths – something that I highly recommend.
Day 3 – Sussex - 87km
Today was all about the Downs Link, which runs from just outside Guildford down to the coast.
I joined the path about half-way along, after crossing through the beautiful St Leonard's Forest (above). Being Boxing Day, there were a lot of people out on family walks, some with their children on their new bikes.
I was glad to be using strong lights
This is a nice time of year when everyone has a feel-good factor, smiling and greeting each other during their walks. One little girl who must have been no more than seven-years old managed to find it in her to shout "Happy Boxing Day" to me as she flew past on her bike. That made my day!
The 37-mile Downs Link rail trail is well-maintained, and not too muddy in damp conditions. Parts of it are gravelly, particularly near the end at Shoreham-by-Sea, and there are sections that go on-road through small villages.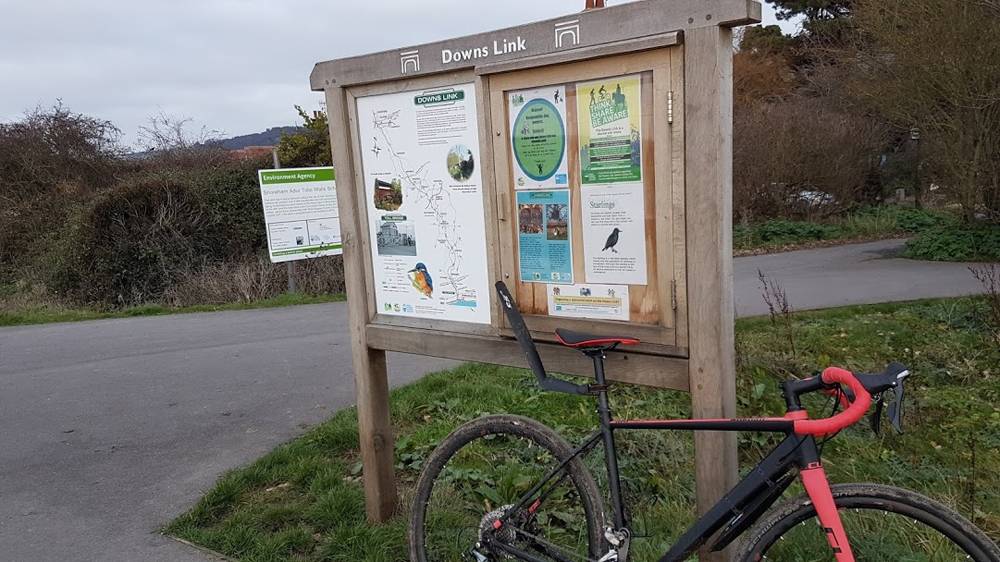 On arriving at Shoreham, I followed the signs to reach one of my favourite hang-outs seven miles away, Brighton. From there I made tracks on a largely traffic-free route to reach my car near St Leonard's Forest.
Again, it's necessary to have a well-lit path for this journey, and I was glad to be using strong lights.
Day 4 – Kent - 83km
Crab & Winkle Way
My ride started in Whitstable, where I rode on the 7-mile Crab and Winkle Way rail trail to reach Canterbury. Its surface was a mixture of smooth tarmac and gravel, and had a steep climb shortly after leaving Whitstable.
There was also a fast descent into Canterbury, and in between, I was treated to lovely scenery around Blean Woods.
Viking Coastal Trail
From Canterbury I headed towards the coast to Pegwell Bay and Cliffsend where I joined the 32-mile Viking Coastal Trail and wound my way around this beautiful Kent coastline.
It was certainly a popular area, with many visitors taking afternoon walks or just admiring the view on a sunny day. Being a little crisp, there was no chance of any sunbathing to be done here!
Suddenly, I was all alone and the path ahead was not clear
Ramsgate Harbour (below) was one of the memorable sights, with boats and ships of various sizes docked at the port. Apparently this is due to be extended in the future once the UK has left the European Union.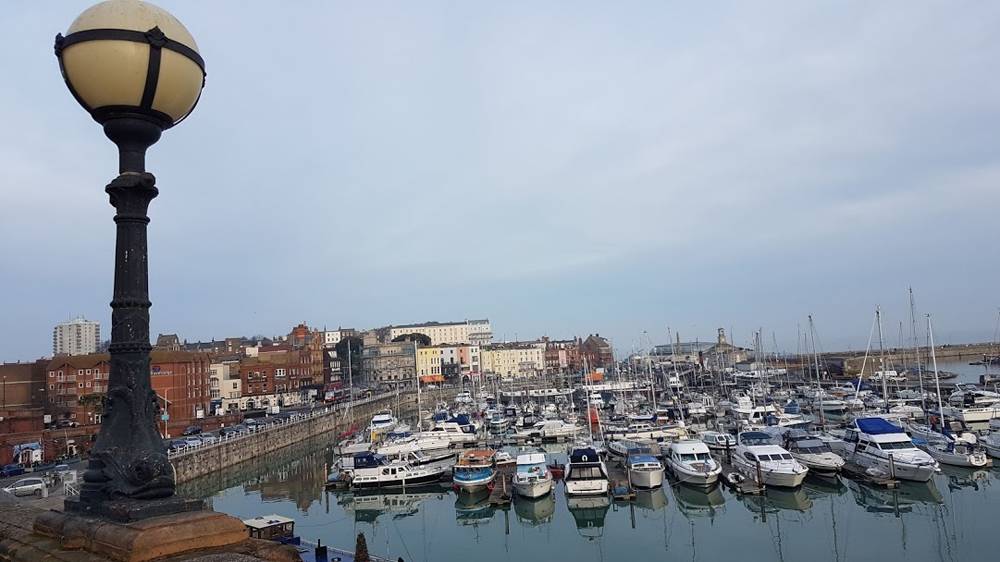 So with the adage of "small is beautiful" in mind, I would recommend visiting the harbour now before it becomes an unwieldy monstrosity clogged up with trucks!
Other highlights of the ride were white cliffs from Cliffsend, through Broadstairs, and Margate (below).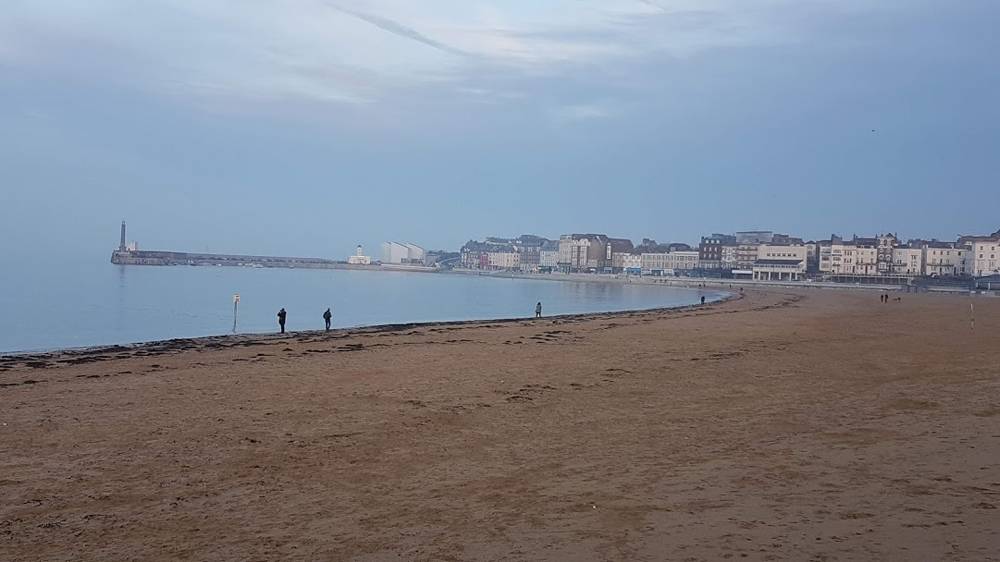 However, my ride came to an abrupt end when I became engulfed in fog and didn't know which way to go.
Suddenly, I was all alone and the path ahead was not clear especially as it was now dark. It was difficult to read the signs, and although I had an Ordnance Survey map with me, I still felt anxious about the conditions.
After taking a scarily foggy path to Birchington-on-Sea I decided to take the train back to Whitstable. I would have loved to cycle all the way, but being alone it was preferable to remain prudent.
So I admired what little I could see of the Kent coastline from a South Eastern train, promising to return and do the full Monty.
Want to read more?
Read more from Maria here.