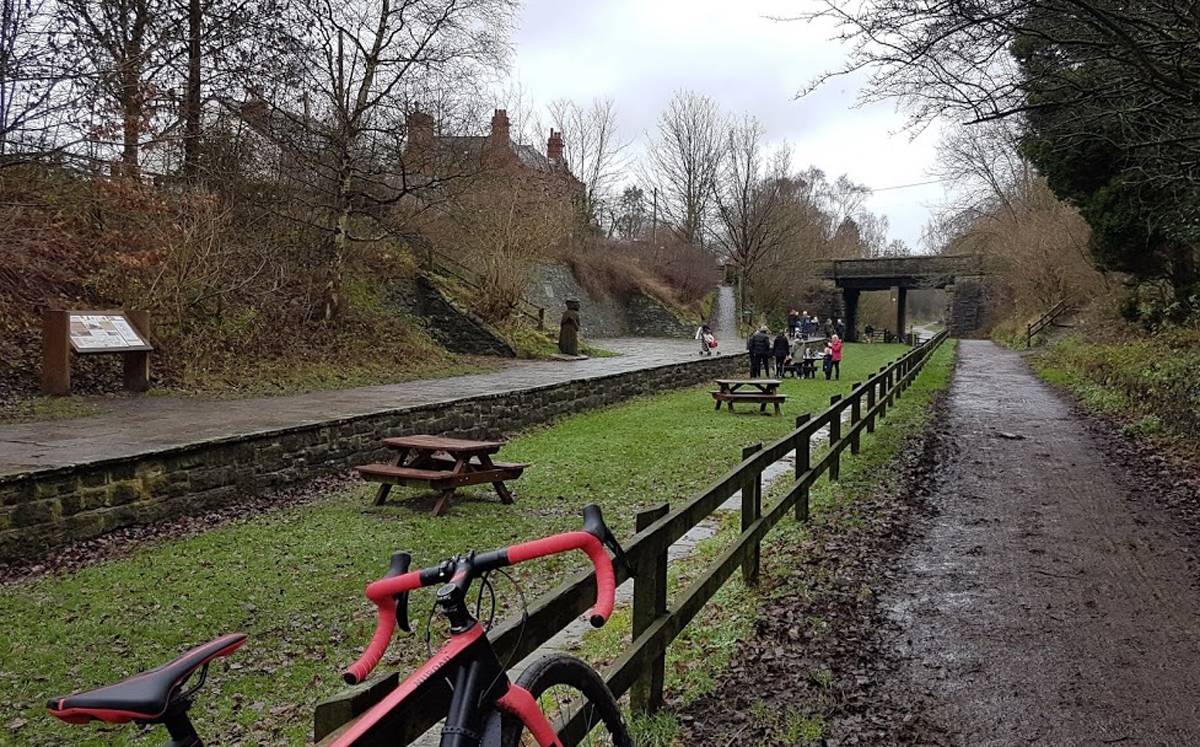 Read the conclusion to our regular blogger Maria's tale of the Festive 500 - riding 500km between Christmas Eve and New Year's Eve on rail trails around England...
East and North of England
Day 5 – Norfolk: 41km
By Day 5, the plan was to ride the Marriott's Way and the Bure Valley Path – two trails that join each other at Aylsham. I would start in Norwich, ride the 15-mile Marriott's Way, have a short break in Aylsham then return to Norwich via the nine-mile Bure Valley Path, and Wroxham.  
Given that I had had to drive from London first, it was almost 3pm when I reached the trail head.
Knowing that sunset would be soon, I took my highly visible Proviz jacket and Exposure lights with me.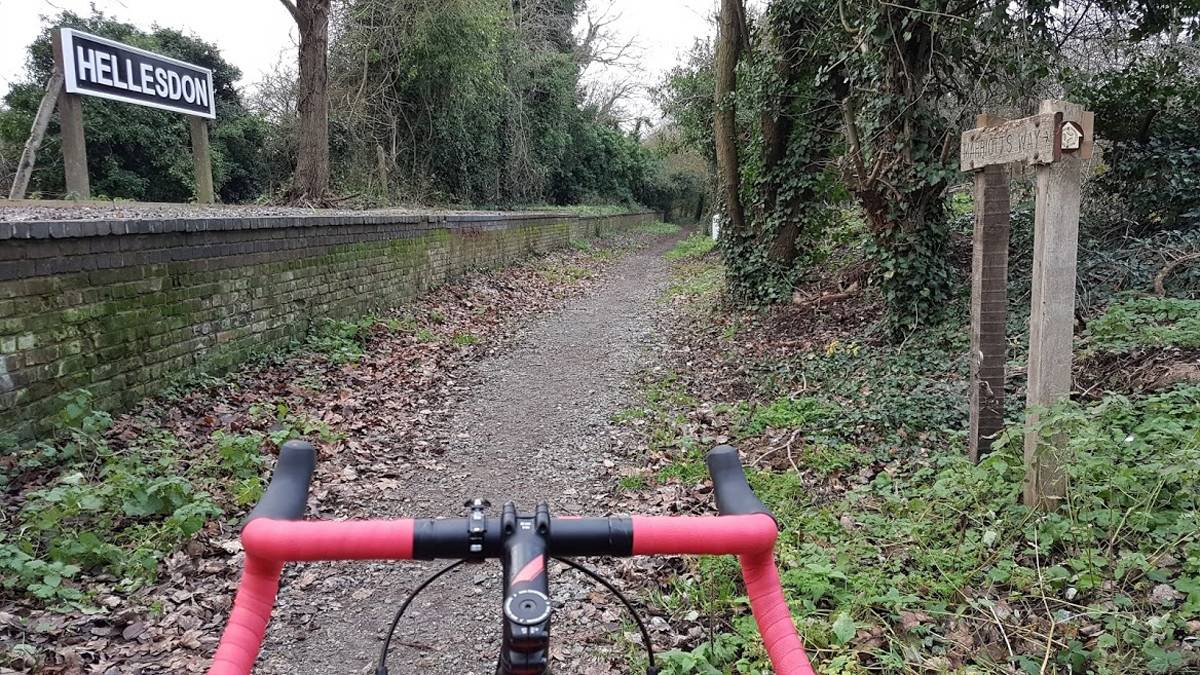 The Marriott Way (above) was a good family trail. It was wide, though the surface was churned up and muddy. Apart from that, it had a similar feel to the Downs Link – mainly through forest, with other paths leading off it.
This trail also crossed a number of roads, and in some instances it took me into villages where I had to find the trail again in a different part of the village.
At one point, in Drayton, I lost time after going completely the wrong way. That didn't help matters.
Then when I reached Lenwade the path was closed off. Instructions to follow a diversion and rejoin the trail looked complicated, and I was a little tired.
My thoughts were turning to the following day when I would be riding more trails and doing a cyclocross race.
So with that, I doubled back on myself, did a loop around the city centre, and returned to my car.
At least I had a taster of the East of England, and I saw enough of it to give me a reason to return there in the future.
Day 6 – Bakewell, Peak District: 34km
This was a fun day, which involved riding a trail and doing a cyclocross race. I parked at the Bakewell Showground, the venue for the Notts and Derby League cyclocross race, and picked up the Monsal trail (below) straight from the car park.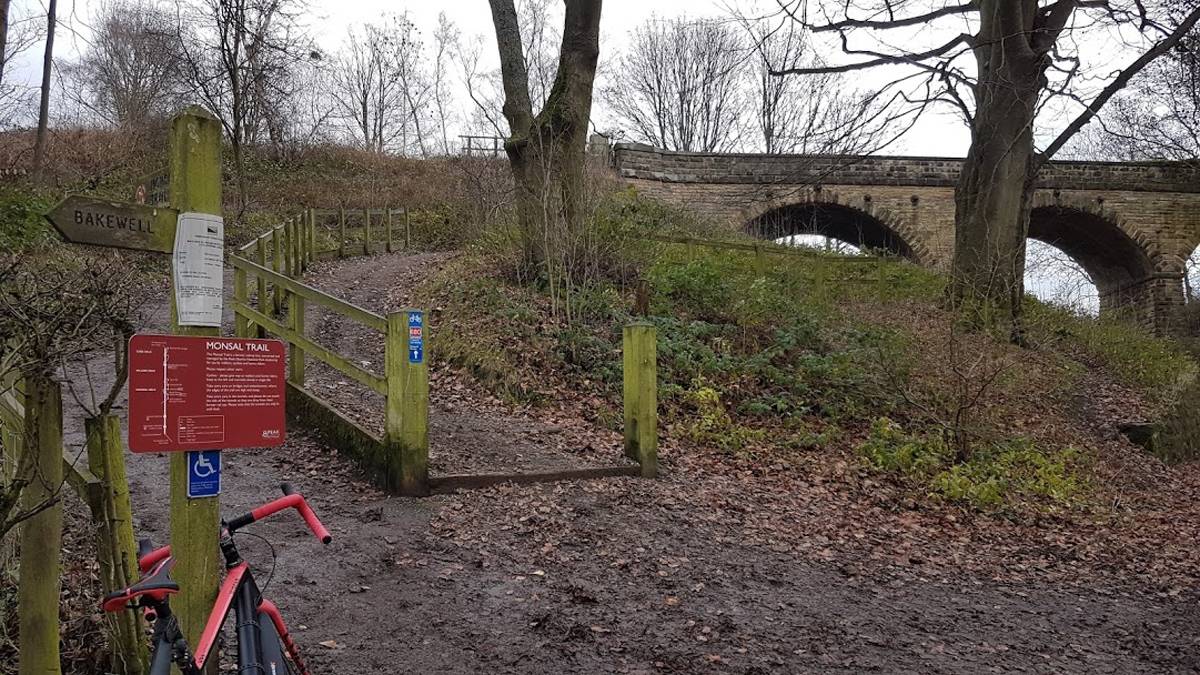 Of all the trails during my Festive 500, this was the best.
The surface was solid, so not muddy at all. It was very wide to accommodate the thousands of cyclists and walkers using it. Indeed, the Monsal trail is very popular with spectacular views of the Derbyshire Peak District (below).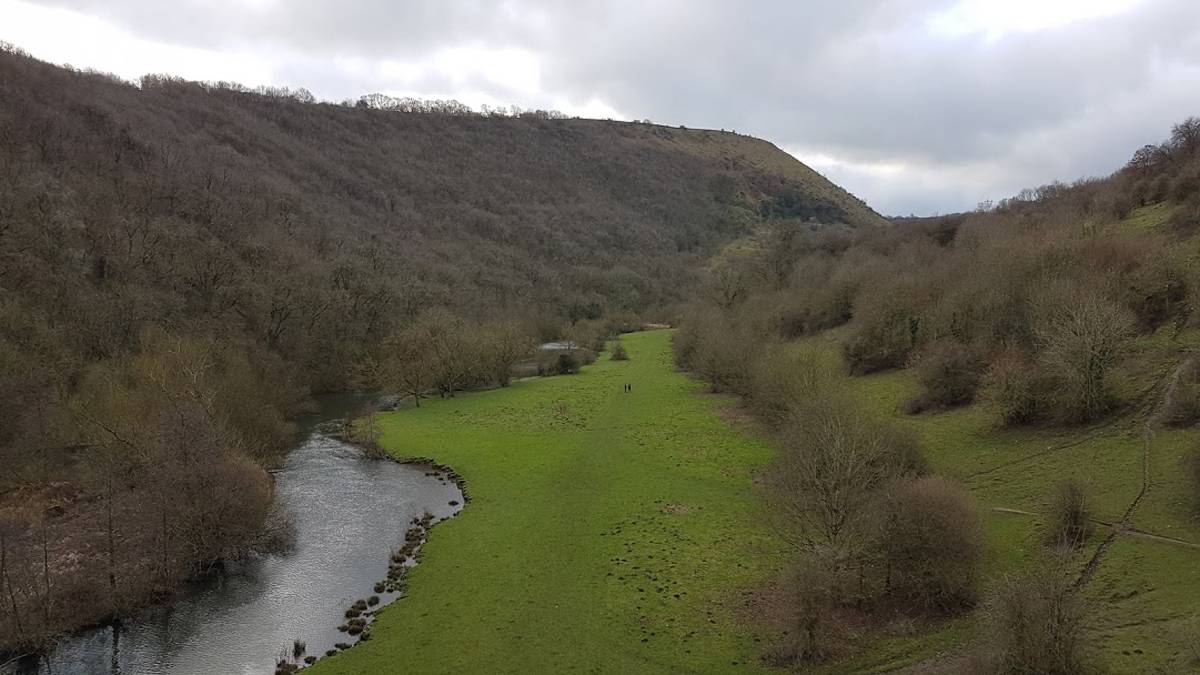 The other big feature on the Monsal trail are the four 400m-long tunnels (below). Feeling a bit playful, I couldn't help but shout 'whoo hoo' as I whizzed through one of them.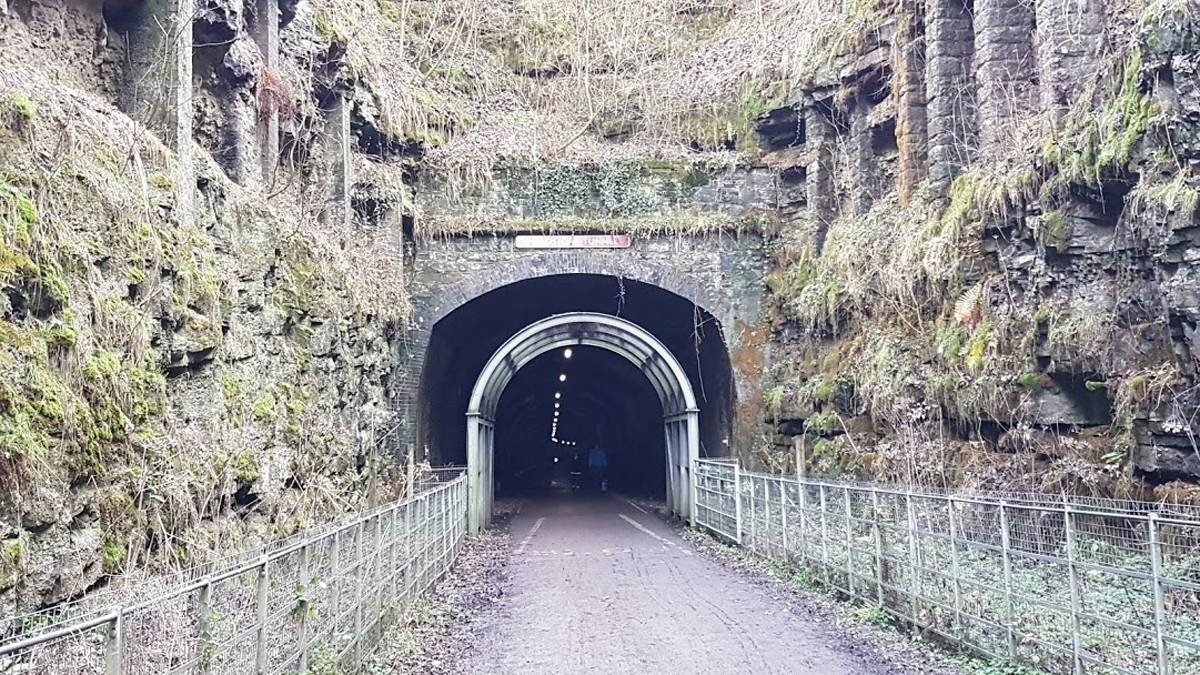 Although the tunnels are lit during the day, it still doesn't do any harm to attract people's attention as you approach, given the groups of riders of a varying ability, and walkers in the tunnel.
I didn't do the full 8.5-mile trail as I needed to get back in time to start my cyclocross race.
If I had had more time I would have stopped at the pleasant-looking café and bike hire point in the disused station of Hassop, which seemed to have a nice atmosphere.
Back at the Showground I was fully warmed up and ready to take on another challenge within this challenge – a cyclocross race. It was fun, as ever, and involved lots of slogging through mud and going up and down challenging slopes.
At least it was dry and sunny with plenty of crowd support - even if I was bringing up the rear!
Day 7 – Cheshire and the Peak District: 43km
This was the hardest day of my challenge - because of the weather conditions.
I had grown used to riding in dry, unseasonably warm temperatures, but today definitely had a wintry feel.
It was cold, damp, and misty. I had originally planned to do the Macc Supacross cyclocross race first, but the conditions and the fact that riding the trails would be slow-going meant I prioritised the Festive 500 Challenge.
Middlewood Way
This 11-mile multi-terrain trail that runs from Macclesfield to Marple, near Stockport. It's tarmac at the Macclesfield end, compacted earth at Tytherington, and looser earth from Bollington, making it a potentially muddy ride.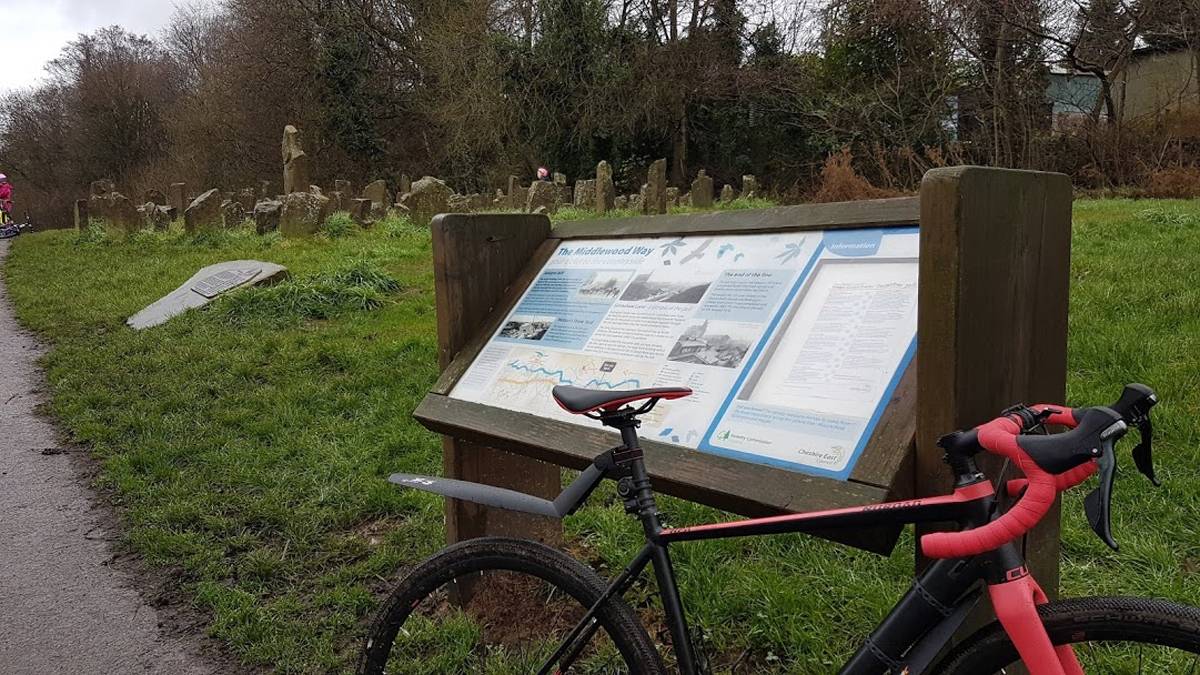 In the early part of the route there is a bit of climbing to be done, which isn't a surprise as Macclesfield sits on various levels.
The Middlewood Way is not a high profile trail like the Monsal trail or the Bristol to Bath cycle path, but when on it you are pleasantly surprised how picturesque it is. Along the trail are sculptures and art features like a labyrinth and old train wheels as distance markers.
The area around Bollington is particularly pretty as you cross a bridge, and are treated to views of the local hills, the church and the old mills that characterise this area.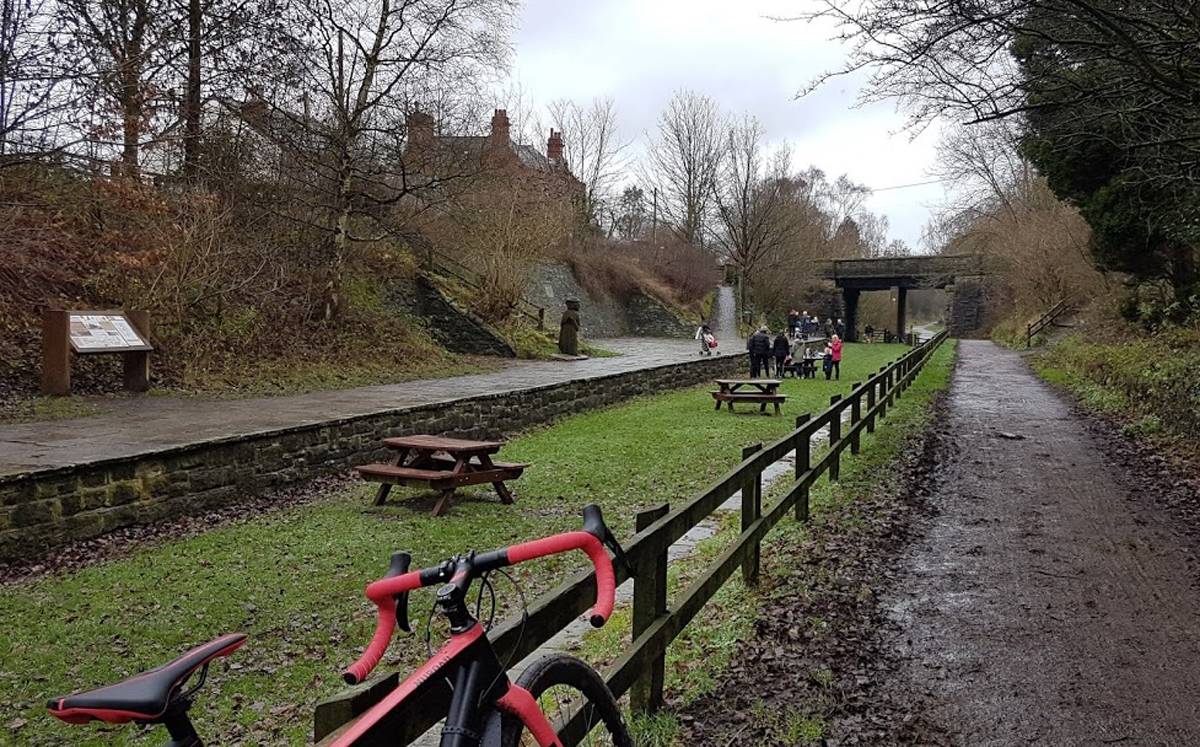 Further along, at Poynton (above), is a picnic site, as well as a country pub. It is here where you see the highest concentration of walkers and cyclists, plus horseriders too.
If you've had enough, or want to explore more, you can take a train to Manchester or Buxton from Middlewood station which is right on the trail.
Longdendale Trail
After a muddy morning ride on the Middlewood Way, a grey, even messier afternoon was spent on the Longdendale Trail. This part of the Peak District is high in altitude and caught in the drizzly low cloud, giving poor visibility along very sodden trails.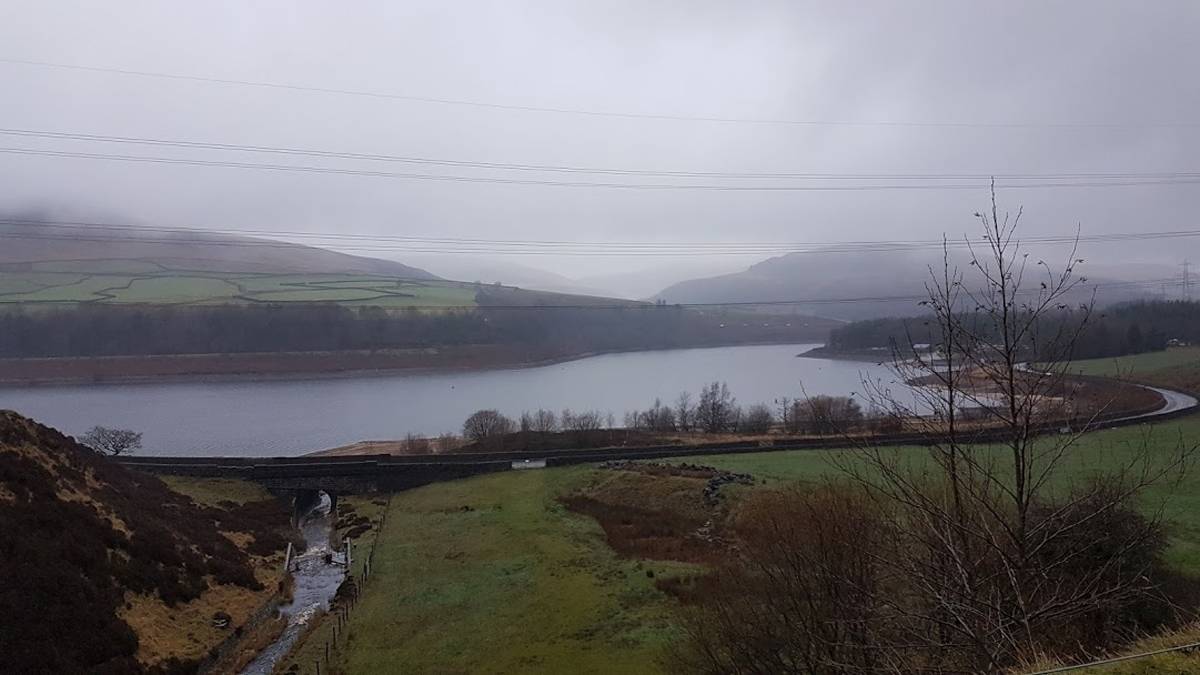 The last time I cycled on this path was in summer 2016 when I rode the Transpennine Trail. It was in lovely sunshine among beautiful colours around the Torside and Woodhead Reservoirs.
Today, was just bleak, morose, and damp and I could barely see the reservoir, still less the hills.
I soldiered on in the rain on the unkempt trail. After 5 miles out of the full 6.5 mile trail that goes to Woodhead tunnel, I returned to the car via a parallel road.
At least I managed to see an atmospheric sunset over the Dales – something you don't get to see every day.
Day 8 – East Yorkshire and North Yorkshire: 82 km 
Last day, yay! I was looking forward to arriving in York and having a celebratory afternoon tea.  
Setting off from just outside Hull, along a traffic-free signposted route to get to Beverley, I felt energised.
Normally when I'm in this pleasant East Yorkshire market town I stop at Café Velo, but unfortunately time pressures meant no stopping as I wanted to reach York before sunset.
Hudson Way
My first rail trail was the Hudson Way, a 10-mile path to Market Weighton. The trail began on a beautifully gravelled track (below), and I was pleasantly surprised to see that the surface had improved from the muddy trail it was the last time I was on it.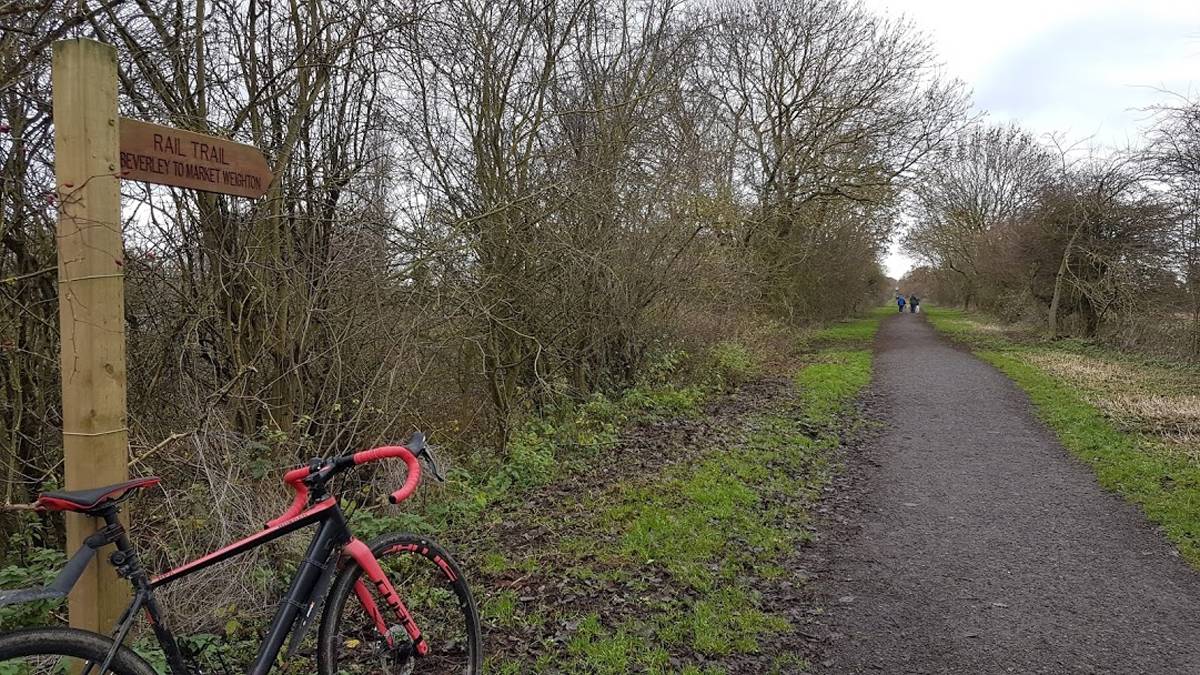 But after half a mile, this manicured surface ended abruptly and reverted to its former self!
The Hudson Way is a basic trail bordered by arable fields, where local residents walk their dogs.
Apart from a spartan picnic site at Kiplingcotes disused railway station, and some David Hockney-inspired views there wasn't anything outstanding about the Hudson Way.
It's essentially a functional connector between two interesting East Yorkshire towns.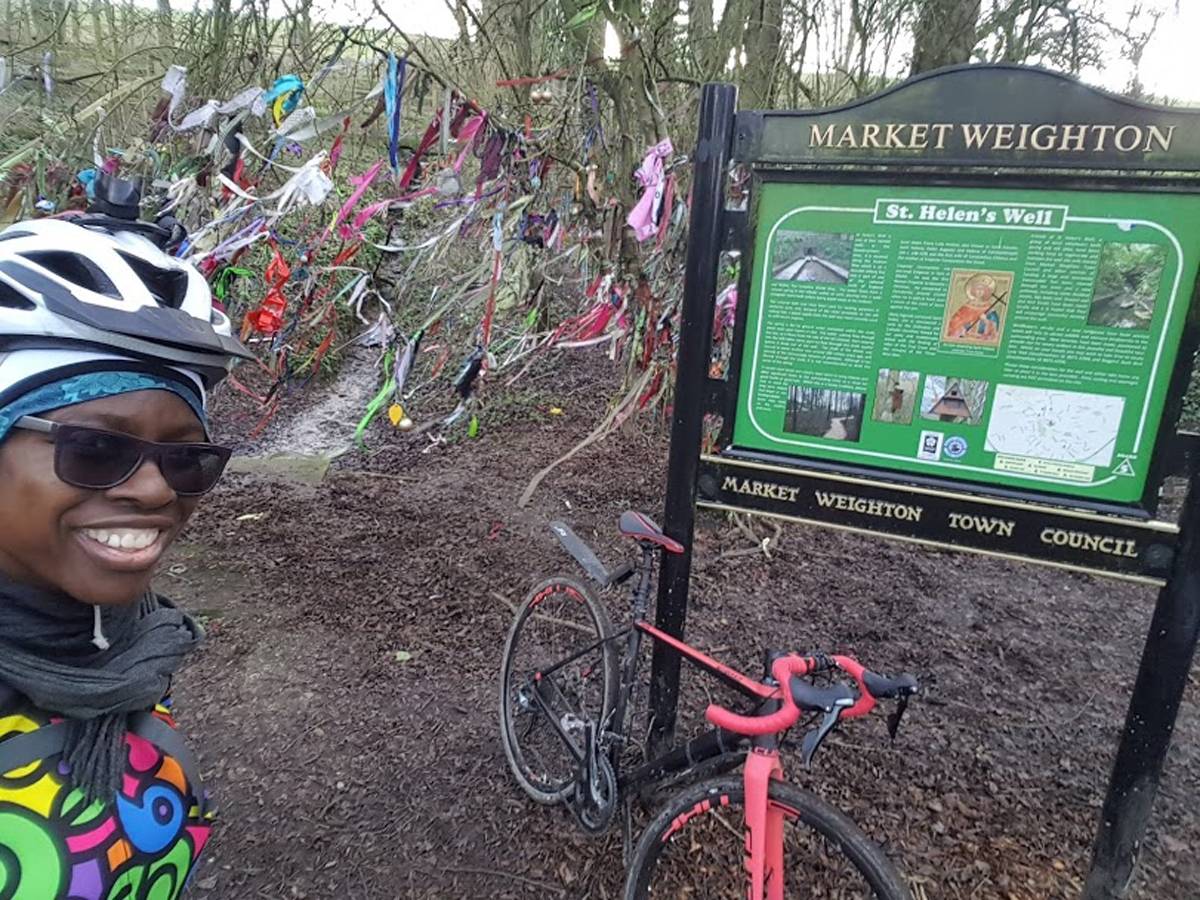 Just outside Market Weighton the woodland trail passed trees with colourful ribbons to mark the location of an ancient spring, St Helen's Well.
That provided a photo opportunity if nothing else!
Bubwith Rail Trail
Next up was the Bubwith Rail Trail, a little-known path. There was not so much human life on it, but mainly equine life.
The trail, barely discernable having been churned up by horses, bumped along past stables and paddocks, and crossed various lanes. Mountain bikes are well suited for this terrain, though the tyres on the Cube Nuroad bike still coped fine.
York to Selby Cycle Path
After roughly 10-miles of cyclocross to link from East Yorkshire to North Yorkshire, I reached Bubwith, from where a short-cut through Skipwith Nature Reserve took me to the final rail trail of the day: the York to Selby cycle path.
Apart from the Bristol to Bath cycle path, this 15-mile byway was the only fully tarmac rail trail of my Festive 500. It was well maintained with distance markers, benches, and sculptures related to the solar system.
The run in to central York was flat and fast, and reached the city centre via the racecourse and the River Ouse.
Finally, after scooting up a cobbled ramp onto Lendal Bridge I arrived at High Petergate in front of York Minster - just as the sun was setting.
I was so glad to end my Festive 500 at this iconic landmark.
Riding the 500km had been fun, though logistically challenging because I was travelling to different parts of the country within a short space of time.
But my great rail trail plan had largely come together, and I celebrated with afternoon tea at Café Concerto.  
Festive 500 stats:
Days: 8
Rail trails: 10
River cycleways: 4
Coastal rides: 2
Canal towpaths: 2
Total distance covered: 502km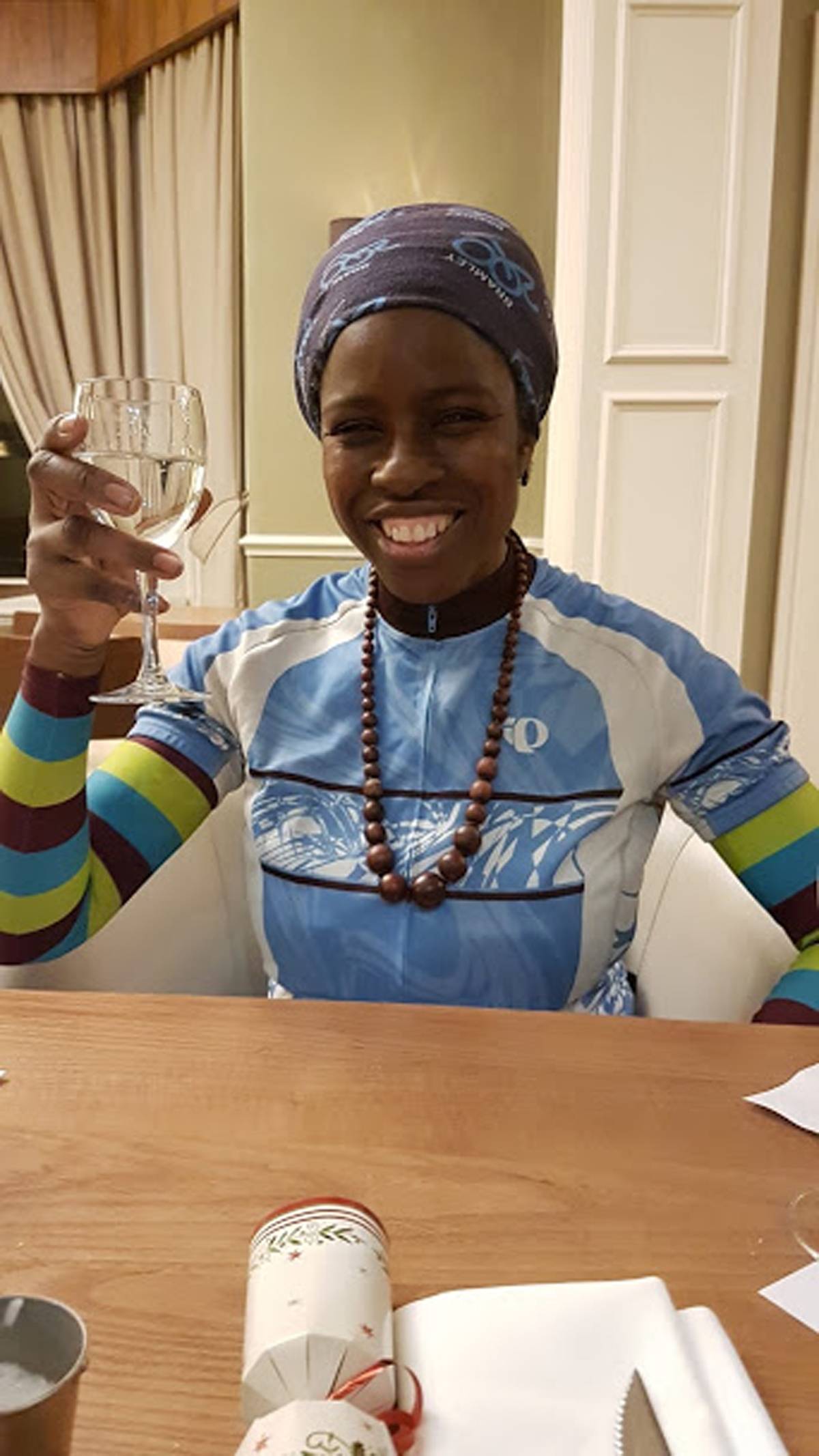 Read more from Maria here.