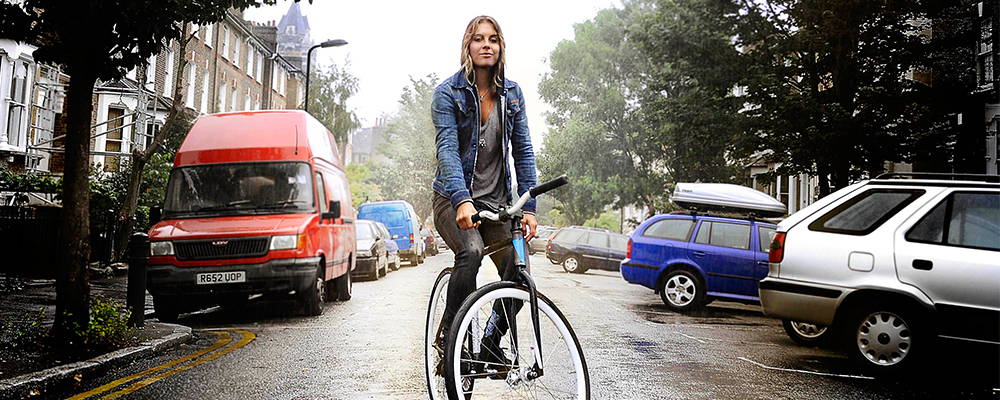 In the grand scheme of things, I came pretty late to the cycling party. I had bikes when I was growing up, a Raleigh 'Burner' and a steel road bike from J.E. James in Sheffield, but these were just toys and though I rode them occasionally, I didn't consider that 'cycling.'
I had a hand-me-down bike from a friend, which was quite frankly rubbish.
I properly got into riding bikes when I was in my twenties and living in London, riding to work in a desperate attempt to avoid taking the tube as well to save money (to spend on beer, mainly) and keep 'a bit active.'
I had a hand-me-down bike from a friend, which was quite frankly rubbish, and thus my commute was more something I just did, rather than something I actually enjoyed.
That bike was stolen after I left it overnight in Soho, having decided I'd drunk too much beer to ride it home safely and I can remember the incredulity I felt as I walked around and around the lamp post where it had previously been, unable to quite believe that anyone would take such a piece of junk.
What I wanted was the cheapest bike I could find, because… a bike's a bike, right?
I went to Decathlon to buy another one straight away. What I wanted was the cheapest bike I could find, because… a bike's a bike, right?
I eventually rode away from Surrey Quays on a £100 machine that probably weighed about 30kg, and thinking back, I doubt the tyres were even pumped up properly.
The bike continued to be just another way of getting around, though I do recall beginning to enjoy going fast and occasionally having a bit of a race to the lights, like many commuters!
My then boyfriend, meanwhile, was getting into bikes himself and would sometimes tell me in passing about this Campy something or other.
He'd just rescued an abandoned Moulton that he was hoping to rebuild and I appreciated the beauty of its design, but that was about as far as my interest went.
Then my Decathlon bike was stolen from outside our new place in Dalston.
Without cycling, it was buses or an Overground that went nowhere.
Now, this was back before they built the new tube station so without cycling, it was buses or an Overground that went nowhere I wanted.
The fact we both rode bicycles had strongly influenced our decision to buy in an area with (at that time) crap transport links, so it was massively irritating to be without a bike, even though I didn't yet care about cycling for cycling's sake.
I was only working in Old Street but getting there was a right pain - it was such a crappy way to start the day.
Cycling gear to make you smile
Seeing as he had another bike to ride, my boyfriend lent me his road bike. It was a revelation! His blue aluminium steed had real gears housed in proper shifters rather than the type I'd been using where you had to twist the grip or nudge a small lever with your thumb.
And there were about twenty of them - four times the number I'd been using! The wheels were slim, stiff and fast and the pedals turned smoothly. Riding this bike felt like flying!
Then the blue road bike was stripped of its gear shifters and brake levers, right outside our house.
As I'd been enjoying the bike so much (and because it wasn't even mine) I wasted no time in rebuilding it, immediately replacing the Campagnolo shifters (at great expense) before hopping back on to recommence flying.
But unbelievably, the shifters were stolen again only two weeks later, along with the fork and the cranks this time; basically everything that was removable was gone.
With my bank account still recovering from the previous theft, I couldn't afford to replace everything all over again, plus I really didn't like the fact a bike such as mine/my boyfriend's had so many removable, desirable parts.
I'd seen my friend Tom riding a fixed gear bike for his job as a bike messenger and it looked like that kind of machine could be the perfect solution to my woes – there were fewer parts to initially purchase and fewer could be stolen.
This was way before you could buy an off-the-peg 'fixie.' Charge Bikes were a couple of years from releasing their iconic PLUG bike so if you wanted one, you had to build it yourself (or buy a track bike I guess, but I didn't know that then).
I found an old steel road frame and wondered what to do next. Help came in the form of the Fixed Gear and Single Speed Forum, an encyclopedia of knowledge peopled by folks who loved riding fixed gear bikes.
After a few weeks, my new bike was ready to go so I hopped on for my maiden voyage.
It was love at first ride
With my feet attached to the pedals I could minutely control everything with my legs.
Riding fixed 'well' took skill.
My senses heightened by the need to look ahead and anticipate traffic, I felt a real sense of flow, both literally as I weaved through cars and past buses and the other sort of flow, the mental kind where you're fully immersed in what you're doing.
It was the beginning of my obsession with bikes.
Cycling felt like an interaction with my surroundings rather something passive as it sometimes had as I just coasted along on a bike with a freewheel. Stripped of the superfluous, my bike felt light, responsive, fast and fun with a capital F.
I finally 'got' cycling and fell for it hook, line and sinker. It was the beginning of my obsession with bikes, one that's showing no signs of waning ten years later.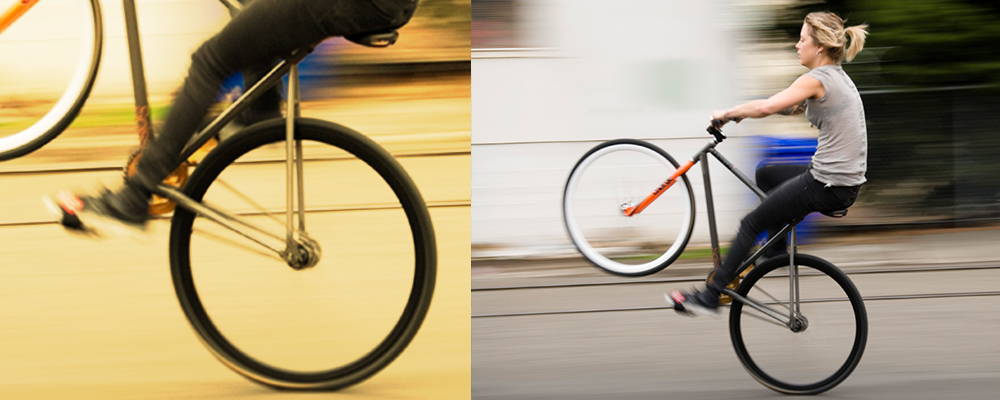 So though it's unfashionable to exalt the material and that a tool person shouldn't blame her tools, I guess the moral of this story is that riding a good bike, or simply the right bike makes cycling an entirely different experience.
I often feel sorry for the partner of a bike nut who gets dragged out for a ride on a piece of rubbish whilst their other half cruises smugly on something fancy. And they wonder why their partner doesn't enjoy cycling as much as they do!
When it comes to cycling, it really is all about the bike, so if you haven't found the one that makes your heart skip a beat, keep looking. It's out there somewhere waiting for you.
Still have questions about your dream bike? Why not ask our bubbling community?