Allow yourself to be transported away, for a moment, to the barren Patagonian steppe. Liz and I had been cycling for the best part of a year, and were reaching the end of the year long adventure that first inspired VeloVixen.
Ahead of us lay 170km to reach the next village – our longest day of the trip - and it was windy. Very windy.
So windy, in fact, that we'd just spent 2 days hunkered down in a basic hostel in dusty Gobernador Costa (population: 2,374, pictured above) waiting for the wind to abate. Fat chance in Patagonia where, once you're outside the odd pocket of inhabitation, there's nothing more than knee-high scrub to break it for hundreds of kilometres.
'You never have the wind with you – either it is against you or you're having a good day'.
I'd popped into the police outpost on the edge of town to ask about conditions. 'Bastante viento', they'd said. Pretty breezy. Surprise surprise.
As I emerged, Liz was struggling to stand up in the wind. The signs were not promising. I picked up my bike from the ground.
Now, we reckoned our bikes weighed about the same as us when fully loaded - about 90kg in my case. As I lifted my trusty steed, the wind gusted so hard that it was ripped clean out of my hands and deposited several metres away, in a dusty heap.
We retreated forlornly to the hostel, checked back in, and spent the day eating crisps and watching 5 back-to-back episodes of Spooks. It seemed a solid decision.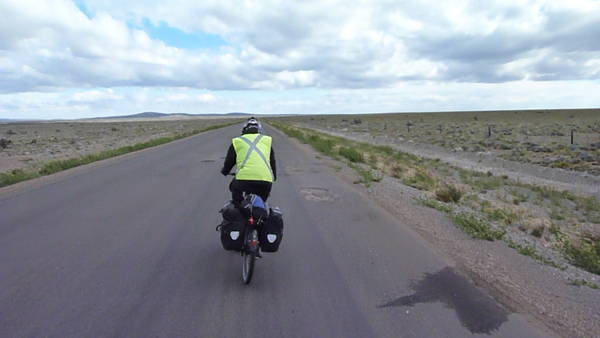 When we did eventually take on those 174km, it was largely at an angle like this (above). It made for a long day.
We spent weeks dealing with wind. It became our all-consuming topic of thought and conversation. We were wind obsessives. We would pore over weather forecasts, do anti-wind dances and plead with the wind gods Eurus and Zephyrus to give us a break. We laughed, yelled, screamed and cried at the wind. We dreamed of climbing the windless Andes again rather than more of this torment.
But it never stopped.
If there was one thing we learned over those months of cycling it was this - Daniel Behrman was dead right. In his book The Man Who Loved Bicycles, he says:
'You never have the wind with you – either it is against you or you're having a good day'.
We can vouch for that. No matter what country, altitude, temperature or road surface you ride on, there will always be a headwind. Some days it seemed we tried every direction of the compass, and still we were buffeted unhelpfully.
Normally it was a headwind. Sometimes a side wind, which could sweep a fully loaded bike either off the road or into the opposite lane – neither very appetising prospects. Ask us about the two days when we actually experienced that mythical beast, a proper tailwind, and you'll see us go cross-eyed and hear us gurgle inanely with pleasure.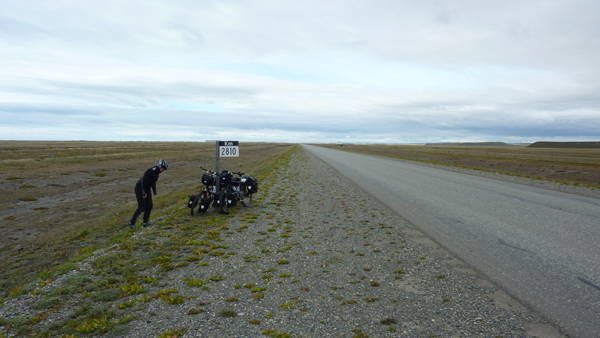 All of which meant we had to learn to live with riding into the wind. Here are our top strategies – laden with experience - for cycling into an unhelpful wind:
1. Change your bike setup
A proper bike fit can ensure you're in the best position to minimise wind drag whilst keeping you comfortable. After all, your body acts as a human shaped sail of wind resistance, so the less the wind has to aim at the better.
In extreme conditions, try to hold your body a little lower, tuck in your elbows and ensure your clothing is as figure hugging as you dare. Every little helps.
Popular kit - to take your mind off the wind
2. Wait for the drop
Most of us don't have the 'luxury' or opportunity of hunkering down in a Patagonian town for three days, but if you have the choice between cycling on a windy Saturday or a stiller Sunday, pick the Sunday. There are no prizes for masochism. Cycling's meant to be fun. The kind of situation pictured below (Liz, still in Patagonia) is not fun. Or, necessarily, safe.
3. Ride somewhere less windy
Not easy if you're commuting the same route each day, or if you live in Gobernador Costa, but worth considering if you're planning a touring trip or cycling holiday.
4. Let someone else do the hard work
Tucking in behind somebody else and can reduce the effort you need to put in by 20-30%. The further you can go like this, the fresher you'll be and the more embittered your domestique in front will become.
The more of you there are in the group, the less time each of you will need to spend at the front and the less impact the wind will have. Ride as close as you feel comfortable – ideally just a foot or two from the wheel in front, but this takes time to master. Never 'half wheel', or overlap the wheel in front – this can be lethal.
5. Wear a skinsuit
Important if you're called Lizzie Armitstead or Chris Froome and you're trying to make up crucial seconds in a time trial. Less practical or edifying on your single-speed commute through East London on a wet Thursday in November.
6. Drop a gear
Grinding stubbornly along in too high a gear will not only exhaust you, but it could damage your knees. Much better to go for a quicker cadence in a lower gear, and it may actually improve your speed.
7. Shrink
Smaller people have less wind resistance (see point 1) so don't feel the wind so much. WARNING: this strategy can take several decades of evolution to take effect.
8. Scream at the wind
King Canute tried this with the sea, and I tried it repeatedly when things got really frustrating. It didn't make much difference to either of us, but it did feel good. And it surprised the passing fauna.
9. Remove extra paraphernalia from your bike
On our trip, our bikes sported four large panniers each, a tent, a handlebar bag… And often gypsy caravan style extras like a flag, that day's lunch in a carrier bag and yesterday's washing to hanging out to dry.
This set up would not impress the wind tunnel aerodynamics community. On the odd occasions that we rode 'naked' bikes, we suddenly found ourselves doing a passing impression of Bradley Wiggins lapping in the Velodrome.
10. Learn to love it
They say the first step in fixing a problem is accepting that you have it. Notwithstanding this picture, Liz coped better than me in wind because she didn't allow herself to become frustrated by it. Nor did she have a speedometer to mock her as we panted along at 8kph on perfectly flat tarmac.
In truth, hers is the only solution to a headwind. Accept it, be sanguine about it, and find a speed and rhythm that works for you.
Think about the coffee a few miles ahead, or that last episode of Game of Thrones, or the Theory of Relativity. Anything to distract you.
If you have a power meter or heart rate monitor, this can help you to maintain the same effort as normal without trying to 'defeat' the wind.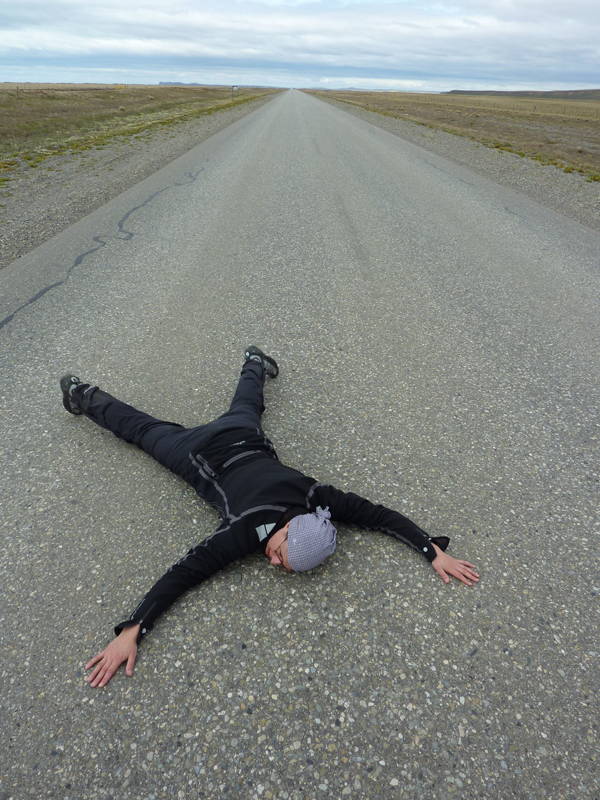 So there you have it – the VeloVixen Guide to Headwinds. What it boils down to is that it's in the mind. Once you achieve that Xen-like state of acceptance, headwinds will never trouble you again.
Either that, or just swear loudly at it.
Got a burning question about headwinds? Craving a cycling community?