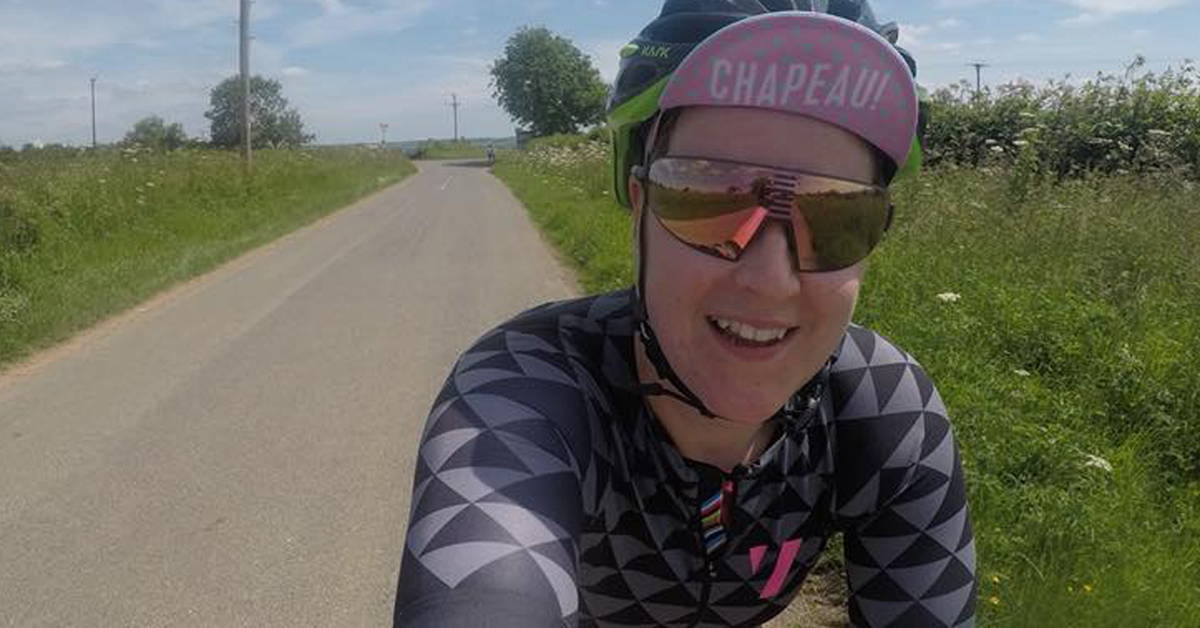 We're all pretty familiar with the notion of physical activity being good for our health, right?
And most of us who cycle also do it to support our mental health in some way shape or form…. But did you know there are ways whilst out on your ride to boost your mental health even further?
Have you ever wondered why some people have a better experience of a ride than we do? They're those people with constant smiles on their face or a completely different positive memory of a ride you did together.
In this article our wellbeing specialist Jeni Sanderson, a Positive Psychology coach, looks at how the science of happiness can help us go from having a good time, to having a great time on our bikes….
As an intro, Positive Psychology isn't just the fluffy inspirational statements you see on social media every day, or the philosophy of simply 'thinking positive' about everything.
Positive Psychology looks at discovering the best in you and finding ways to amplify that on a daily basis to help you be at your best more often - to flourish, if you like.
So, back to your bike ride - here are some top tips to get more for your mental health from your ride:
1. Be social
Yes, we all know that riding with friends is great, but did you know that social connection actually enhances our most powerful emotions?
So, by sharing an experience on a ride with someone else, you're more likely to create powerful and lasting positive memories of your ride - giving you the post ride euphoria for much longer than a lone ride.

2. Be brave
Acts of courage builds confidence, self-esteem and self-compassion - and these can transfer over into our everyday lives.
So choose to challenge yourself with every ride. This doesn't mean you need to climb Ventoux or take a corner too fast; simply choose a new route, or add an extra 500ft of climbing.
Challenges are unique to you and take you ever-so slightly out of your comfort zone.
3. Offer kindness
Science has actually shown that kindness is not only good for your heart, but it also improves relationships and slows AGEING! How cool is that?
Not only that, but being kind feels good to both you and the recipient.
Gear to make you smile
So, the next time you're out on a ride, smile at other riders, pedestrians and drivers (yes, even drivers!) and offer tips to more novice riders.
Kindness creates a beautiful ripple effect too, so you can be sure the person you've been kind to, is likely to pass that kindness on to the next person.

4. Savour the moments
Neuroscience tells us we create memories from the peaks and troughs of our experiences.
So make sure when you're riding to savour those positive moments - the view, the amazing descent, the climb you conquered, the smells of the corn fields or the warmth of the sunset on your face.
By taking a few moments to really take note of the sensations you feel during and after those positive experiences, you're more likely to remember it with joy.

5. Be thankful
There's so much research out there to suggest that being grateful in life is a BIG precursor to happiness.
Gratitude allows us to focus on what we DO have in life, rather than constantly ruminating about what we lack in life.
So, I challenge you: when you finish each ride - note down '3 good things' from your riding experience.
There you go, just 5 very simple things to add to your routine to make a good ride, GREAT.
Do these on a regular basis and you'll not only train your body to be fit and active, but you'll also be training your brain to be happier both on and off the bike.
Want to share your adventure?
About Jeni Sanderson: Jeni is a Positive Change Consultant specialising in using positive psychology and appreciative inquiry to energise positive change in both individuals and organisations. She offers life coaching for those looking to find clarity or to 'discover their positive core' in order to flourish and is a keen cyclist both on and off road, competing with our very own Fran in the Central Cyclocross league and enjoys the road and trails as well. when not working or on the bike, she spends time with her husband and daughter in a village just outside Bedford. You can find out more about Jeni on her website: www.jenisanderson.com