Base layers shouldn't just be reserved for wearing during your winter rides. No, they should be a staple of your summer cycling wardrobe too. They're a true year-round kit basic that all cyclists should own.
It may feel counterintuitive to layer up as the temperature rises, but base layers aren't all about keeping you warm.
What? Base layers don't JUST keep me warm?
Nope, summer base layers are specifically designed to keep you cooler in the heat. Wearing a tight-fitting base layer will help wick sweat away from your torso, more so than wearing just a loose fitting jersey.
A base layer will quickly wick the sweat away and create a cool layer of air next to your body preventing a soggy, clammy jersey from clinging to you.
As the weather heats up, you'll be thankful for that extra ventilation layer as you'll feel cooler, dryer and more comfortable all round.
You'll also get added protection from the sun, as one of our customers pointed out,
I like the higher front neckline, which was one of the features that particularly attracted me to this base layer, helps save me from getting a burnt chest when unzipping my jersey for extra air flow.

- Margaret Jones, Queen of the Mountains Base Layer review
So there you go maximum protection with minimum insulation! Perfect for summer cycling.
How do I pick the right summer base layer for me?
Fit is of upmost importance, you want your base layer to feel like a second skin.

It should hug every curve of your torso, touching as much of your skin as possible so it can do it's job of wicking sweat away properly. If the base layer is not in contact with your skin, it can't lift the moisture away.
Summer base layers are usually short sleeve or sleeveless. Either is suitable, just take note of the sleeve style on your summer jerseys.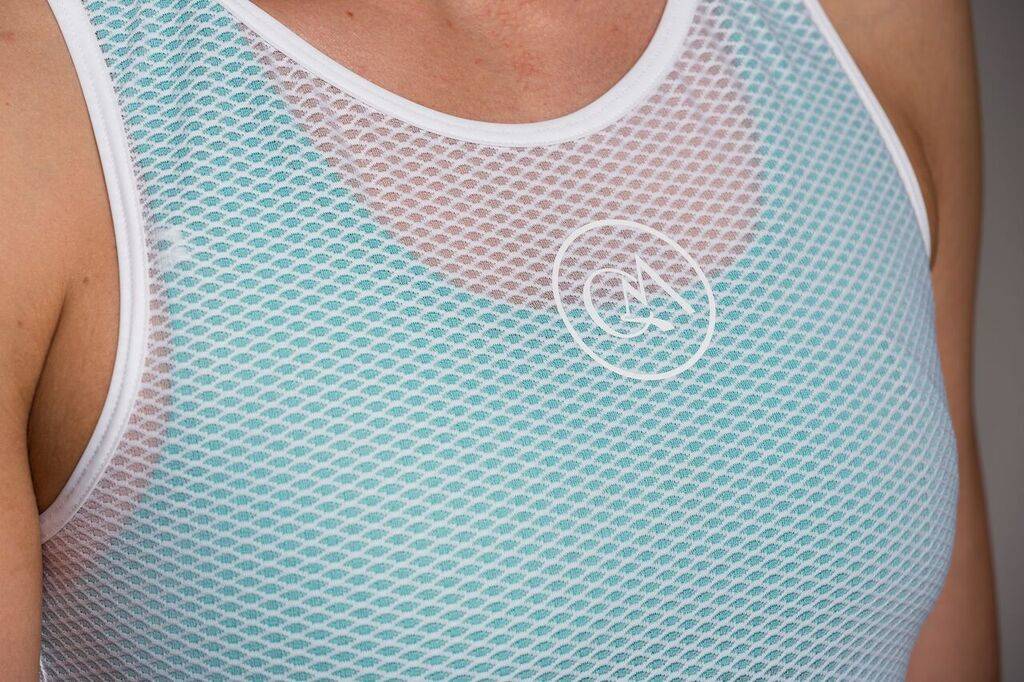 TOP TIP: If like us you own a sports bra that has an extra hook on the strap to turn it into a racer back, learn from our mistakes and be careful when peeling off your base layer. A pristine mesh base layer was left in tatters after it caught on the hook, tearing it to shreds.
And if you enjoy partaking in more than one sport, base layers aren't like bib shorts, they're not picky, they don't mind being worn for other activities. Running, hiking, hockey, horse riding, climbing what ever you're in to, base layers are in to it too.
So if like us you're partial to dabbling in sports other than cycling (yes, they do exist!) then investing in a good quality, durable base layer makes sense as you'll get oodles of wear out of it.