Last month we revealed the names and faces of the four ladies selected to represent Anna's Legs in our new ambassadorship programme. In the next four series of blogs, we'll be introducing you to each of them, with help from Legs designer, Anna Glowinski who'll be firing the questions.
Anna caught up with ambassador number two, mega cycling enthusiast and Breeze Ride leader, Diane Jeggo, who recognises that her love for two wheels has changed her life.

Anna: How did you get into cycling?
I first started cycling when I was diagnosed with breast cancer aged 44 back in 2008. Whilst I looked quite slim and healthy from the outside, prior to my diagnosis, I was a Regional Sales Manager for a bank, so in quite a demanding and stressful role. I didn't do any exercise, and obviously what was going on inside wasn't good.
So, I decided I needed to get myself a healthier lifestyle to enable my body to fight back should the cancer ever return. Lance Armstrong was my inspiration for doing this through cycling, although his lumps and bumps were in a very different place.
I live, breathe and talk cycling and I want to help share the joy I feel out on the road.
I married into a cycling family, so was already heavily involved with organising and watching cycling, which I very much enjoyed. I already had a bike but didn't really use it, but it was now a time for 'if you can't beat them, join them'!
I knew I was having 25 blasts of radiotherapy, so to go on the turbo trainer for 30 minutes every day I was having radiotherapy would mean 12.5 hours of exercise I wouldn't ordinarily have done. I got to day 19 and couldn't swing my leg over the saddle as I was very tired from the treatment. My energy levels were soon back, but because I was a complete novice, 4 miles to the end of the lane was still a major achievement for me.
I am pleased to say with perseverance I am now a 100km girl, and the ultimate goal for me would be to achieve the Imperial 100. I feel physically and mentally stronger than pre-diagnosis and cycling has undoubtedly helped me achieve this.
Anna: What does cycling mean to you?
For me cycling has completely changed my life.
I live, breathe and talk cycling and I want to help share the joy I feel out on the road. I am passionate about encouraging participation for everyone, whether that's by organising our own events, running women only rides, or commentating at races and sportives.
After redundancy, I was very lucky to work the autumn season in a prestigious bike hotel in Italy, the Belvedere Riccione, as a bike guide (well more like the sweeper at the back, ensuring people didn't get left behind).
That came about as I was telling the owner, Marina that we might not be able to come back on holiday due to redundancy and she said "Why not come out here and take the customers out on the bike and do lots of Blah, Blah, Blah with the guests?".
It was really flattering that she didn't know me in my professional capacity, only as a guest and yet she was prepared to put some of her guests' customer satisfaction in my hands.
There were a lot of ladies in the groups I took out and I loved the fun and feeling of camaraderie we shared, so when the opportunity to be trained as a Breeze Champion (ride leader) came up with our cycling club, I jumped at the chance.
My Husband Nick was already trying to forge a career around cycling - he commentates on National Series Road events, town centre criterium racing, sportives and promotes cycling events. After my return from Italy, we decided to set up a company, Jeggo & Jeggo Ltd, where we promote our own events.
We count our events as a success if we get great feedback, not just from the sponsors and participants but from the audience too. We like our events to have a bit of razzmatazz, and try to make them special for all the family to come and enjoy.
At our Newport Nocturne, (held in the evening under floodlights) the first race in Britain of this kind, we have entertainment around the course in the form of bands and other street artists. It's brilliant to get up to fifteen thousand people in our little market town of Newport, Shropshire.
The chip shop runs out of chips and some of the pubs have been known to run out of beer, it gets that busy.
After 31 years stuck in office environments, it is brilliant, especially on a sunny day, to get out into green spaces, explore lanes, and check out beautiful properties that you would probably never encounter in a vehicle.
From a health perspective, I categorically know that my weight, heart and lung function and cholesterol have all improved with my cycling. It was never really bad, however my results were all on the bad side of good.
I somehow think that if I am fit, then Cedric (the name I christened my cancer, as it sounded wimpy, apologies to all Cedrics out there), would never want to come and visit again. I know this is not true, cancer can strike the fittest of sports people, however, I do know it will help my chances.
I am also inspired by my Father-in-law, Michael, a lifelong cyclist who has Multiple Myeloma, a life limiting cancer of the plasma cells in the bone marrow. I am convinced he would not be here 8 years on but for his intrinsic levels of health and fitness prior to diagnosis. 'The Godfather of Shropshire Cycling' is truly inspirational, not just for me, but for many people.
Last week, he bought himself an electric bike to have a try on as he has weakness in his legs due to the neuropathy caused by his chemotherapy. I am looking forward to getting out with him again very soon.
I am very fortunate that I have made many good friends through our mutual love of cycling and I enjoy nothing more than a bike ride with my Bike Buddies and an emergency cream scone halfway round. My bike buddies are very diverse, on a recent club run, we had 9-year-old Tom riding with 79-year-old Ron - quite inspiring to see them from so many perspectives.
After 31 years stuck in office environments, it is brilliant, especially on a sunny day, to get out into green spaces, explore lanes, and check out beautiful properties that you would probably never encounter in a vehicle. We are very fortunate in Shropshire/Staffordshire to have a fantastic network of lovely roads right on our doorstep.
Anna: You have been part of some great campaigns, including This Girl Can and Breeze Rides. How did they come about and what do they involve?
I was fortunate to feature in British Cycling's Breeze campaign as a spokesperson and Brand Ambassador.
Breeze is Britain's biggest programme ever to encourage more women into riding bikes for fun, with hundreds of Champions across the country leading rides.
Eight of us were trained from our club a couple of years ago, so we have a great network of Breeze Champions who support each other and we tend to do our rides together. We have met many lovely ladies who have come out on our rides and progressed onto bigger things after getting their confidence through riding with us.
I want ladies to share the joy on the road that I get from a bike ride with friends and it doesn't matter if they stick with Breeze, or go onto bigger things, but whatever, just get out there, ride and have fun!    
We had all the emotions out there, tears, joy, and much laughter, and that was just me????
I was thrilled to bits when I got the invitation to be involved with the Breeze campaign, 'Breeze Inspires'. I was very fortunate to be involved with the three Breeze Challenge Sportive events (women only) in 2015.
My hubby Nick and I, did the compère duties at all three events - so if you participated, you would have no doubt seen us and heard us on the mic, talking about chamois cream and the need for an emergency teacake half way round a ride! I loved the inclusive, encouraging atmosphere of these events and meeting so many inspiring ladies.
It was really interesting to hear everyone's stories and reasons why they were riding. Of course, those reasons were really diverse, ranging from peoples first sportive to raising money for a cause that was dear to them. We had all the emotions out there, tears, joy, and much laughter, and that was just me????
The British Cycling team heard my reasons 'why' in my commentary and subsequently invited me to be part of the campaign. Whilst all the ladies featured in the Breeze campaign are all very different, we share a common goal and that's to get more ladies out on bikes and experience the camaraderie and supportive atmosphere of a Breeze bike ride.
Hopefully the campaign encouraged and inspired even more women to go out on a Breeze ride in a friendly and fun environment.
The 'This Girl Can' campaign celebrates active women everywhere who are doing their thing no matter how they do it, how they look or even how sweaty they get. I guess I fit the target audience quite well, apart from that I don't sweat, I glow ????
Anna: Why are you so dedicated to giving your time to promoting cycling and getting other people into the sport?
For me, it's all about encouraging participation, whether that's at Newport CC kids club, adult rides or Breeze rides. As well as doing a lot with our local club, we also organise our own events, like the Newport Nocturne and Queen Victoria Cyclo Cross. We also work for StreetVelodrome, a pop-up Velodrome that tours the country, making cycling on a velodrome really accessible for everyone.
Anna: Do you ever feel like it's a sacrifice? Some days, if you can't be bothered when it's raining or you feel like doing something else?
Cycling is never a sacrifice.
I feel blessed to be able to have the health and time (albeit limited) to do so. I must confess, I am a bit of a fair-weather cyclist, I don't normally set off in the rain, although if it starts raining en route, then so be it. But wind is my pet hate. 'Yes! a head wind', said no cyclist ever??? [Read more about VeloVixen Founder Phil's shared hatred of the wind here]
Anna: What sorts of distances do you ride weekly?
I like to get a couple of rides in a week with my Bike Buddies from Newport Shropshire Cycling Club, so if time allows then that will be about 70 miles a week.
If I take the ladies out on a Breeze Ride, then our rides are normally shorter, somewhere between 10 miles and 30 miles, although we have recently dipped into the realms of 40 milers for our more experienced ladies.
Anna: I have known you for many years now, but don't know much about your life outside of cycling, is this simply because you and Mr Jeggo have put all your energies into mixing your passions with work and friendships? This is a blend that many people can only dream of, how do you make it work?
It's difficult sometimes, as following our dreams does not give us the same level of income as when I was employed. And whilst money can't buy you health and happiness, it is a great 'enabler'. For instance, we haven't had a holiday for three years. I am having withdrawal symptoms from not riding my bike in my beloved Italy, where my heart lives.
But after 30+ years of an enjoyable and successful career in financial services, plus a small brush with the reaper, then I know life is really not a dress rehearsal and it's time for me to follow my passion on the career front.
Anna: What do you guys enjoy outside of cycling and do you ever feel like you don't know where the line is between work and pleasure?
We love to travel and meet new people. For me, the most important things in life aren't 'things' anymore it's about sharing time and experiences with friends and family. I would rather have a spa day with my Mum than a new handbag.
Actually I would rather have the spa day with Mum, closely followed by some time on the bikes with my Bike Buddies.
Anna: What is a perfect day in Jeggo World? You know, the type of day that sends you to sleep smiling?
Bikes, sunshine, good food and good company.
Anna: What were your first impressions of your Anna's Legs leggings?
These leggings have clearly, and thoughtfully, been designed for the female form. Loving the high waist, which helps avoid my muffin top impressions, and also the even higher back, which stops bits showing that should not be seen.
They feel as secure and comfortable as a pair of bib shorts, but without the palaver of having to remove your top if a natural break is required. Attention to detail is great, from reflective side tabs, to the 'secret' pocket at the back.  
I wasn't sure what size to go for, I am normally a 10/12 and the website advises they do come up on the small side, so went with the 12 and that was indeed the right call.
I was also a bit concerned that with my vertically challenged 5 foot and a half inch frame, that they would possibly be too long, but they are great. None of that wrestling trying to get them on doing sumo impressions with funny squats to get them to sit right in the crutch area.
I've had loads of compliments whenever I wear them. It's great to have leggings that are so well designed and put the 'funk' into functional!
Anna: What riding have you done in them so far and how were they?
I've worn them on a few rides with my Bike and Breeze Buddies. They feel very comfortable and there is no riding up on the legs or falling down from the waist. I think you should strongly consider designing shorts for next season Anna?! I'll be delighted to help you test them out!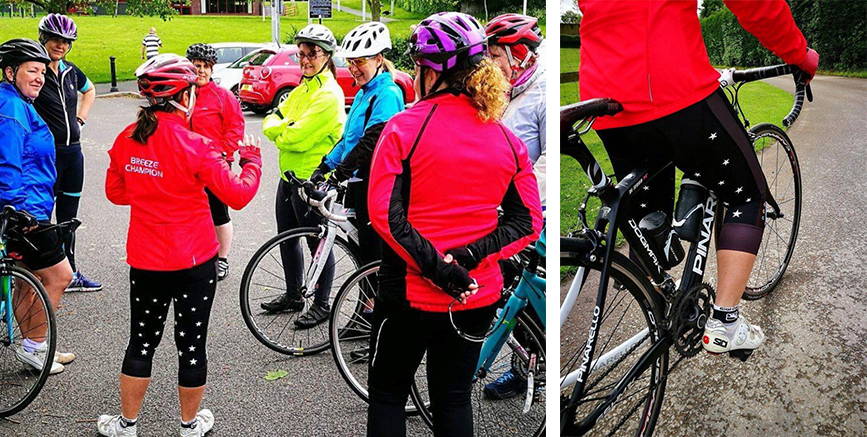 Anna: What excites you most about being an Anna's Legs Ambassador?
I first met you at Red Bull Minidrome (exactly as it says on the tin, a tiny velodrome) in 2011. Since then our paths have crossed at various other events, Bike Shows and we both work on StreetVelodrome, the world's most accessible cycle sport, where you're a pro rider on the TV series and I am known as Di 'The Glue' Jeggo, which means I organise everyone and probably boss them around a bit too.
At Minidrome, I was immediately struck with how you gutsily mixed it with the best of the bunch, how good your bike handling was, and how you rode in your own style, wearing your own designs and always with panache.
I became aware of your first brand, Ana Nichoola, and have some pieces in my bike wardrobe. I can remember seeing an article in a ladies' magazine about women who not only design sportswear, but are active in their sport, which makes their products so much better. I was so horrified that you weren't featured as a prime example that I penned them a mail questioning how she could have been omitted. I have tried to search my archives for the said mail, but to no avail, but I know it was pretty good.
I continue to have huge faith in your ability as a rider and designer, to produce top quality, thoughtfully designed clothing so when I saw the competition to become an Ambassador, I was right in there. Shorts next please!