We have a new website!
Now, if you haven't built a website before, you may be thinking a website is a website is a website... isn't it? We would beg to differ!
After months of blood, sweat, tears, false dawns, challenges and amazing teamwork, we launched our beautiful new site earlier this week. Here are 6 reasons we're confident you're going to love it...
Ever wanted to get straight to what you're after? Our new search function is so clever it's able not only to find the product you're looking for within a few letters, but it will also come up with relevant images, related blogs, and even other products that might appeal.
Now we're as cynical as anybody about Artificial Intelligence taking over the world, but this works beautifully to make life simpler!
---

We've always prided ourselves on being so much more than 'just' a retailer. Beyond our expertise in all things women's cycling gear, we offer a host of community features for our friends and customers (often one and the same!) to enjoy.
Now we've brought them all together - we're calling it Lifecycle. Check it out from the main menu - you'll recognise it from the natty orange star.
Lifecycle brings you:
It's fair to say we're really excited about Lifecycle!
---
 





3. What type of Vixen are you?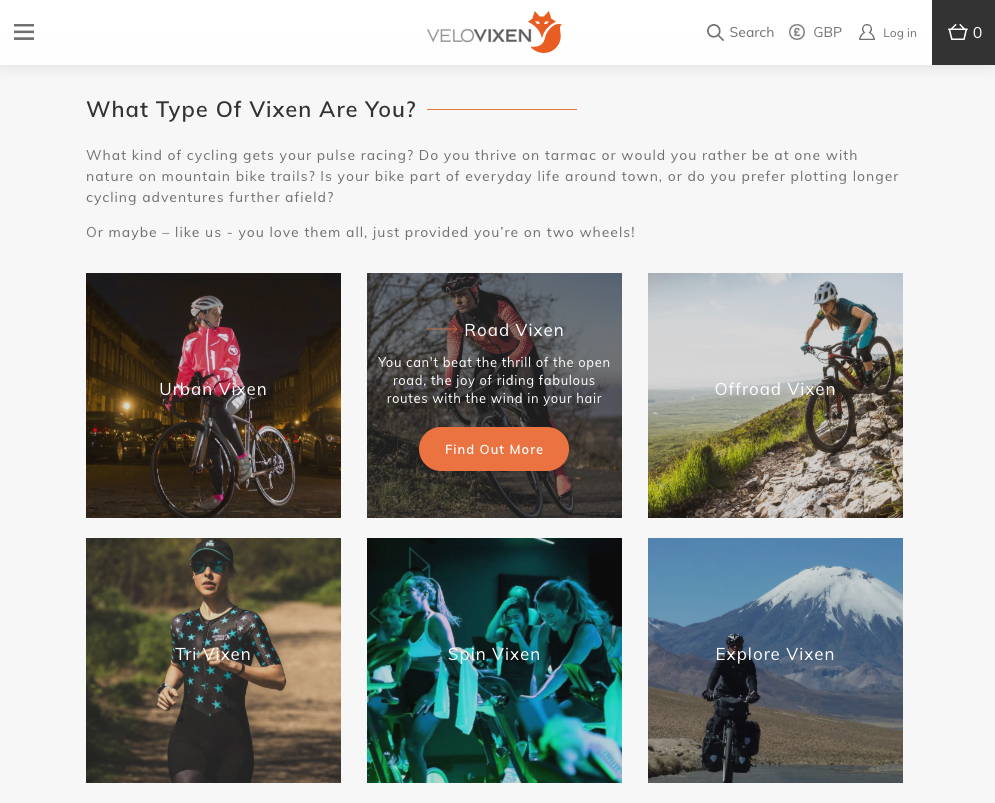 Cycling is such a broad church, isn't it? What other activity covers olympic road races and gentle pootles to the shops?
In this new section, you can pick which type of Vixen you are (you may well be more than one!) - then browse to discover more...
---

Us cyclists don't stand still. After all, if we did, we'd fall off.
New styles evolve, and we want to reflect that. So we've expanded our range of cycling styles. Road, MTB and Commuting are still mainstays; we now also have refreshed (and growing!) focuses on Triathlon, Indoor Cycling and Bikepacking.
---
5. Pick your favourite brand

Many of us have a cycling brand that we already know and love.
If you swear by Castelli, only ever wear Stolen Goat, or would never go out without your Findra neckwarmer - now you have direct access!
Simply scroll down the homepage to our easy-to-access collection of favourite brands - then click on the logo and explore that range, complete with information about who's behind it.
---

Last but not least, we're proud to introduce you to our new logo.
We loved our old one dearly, and we know many of you did too - but after 8 years of faithful service, she's been retired... and replaced by a very 2020 version!
We LOVE our new vixen - the brief to our designers was to give her an extra sprinkling of life, freshness, brightness and feist. More than anything, we've tried to 'wake up the fox'! What do you think?
Want to embody the Vixen spirit?