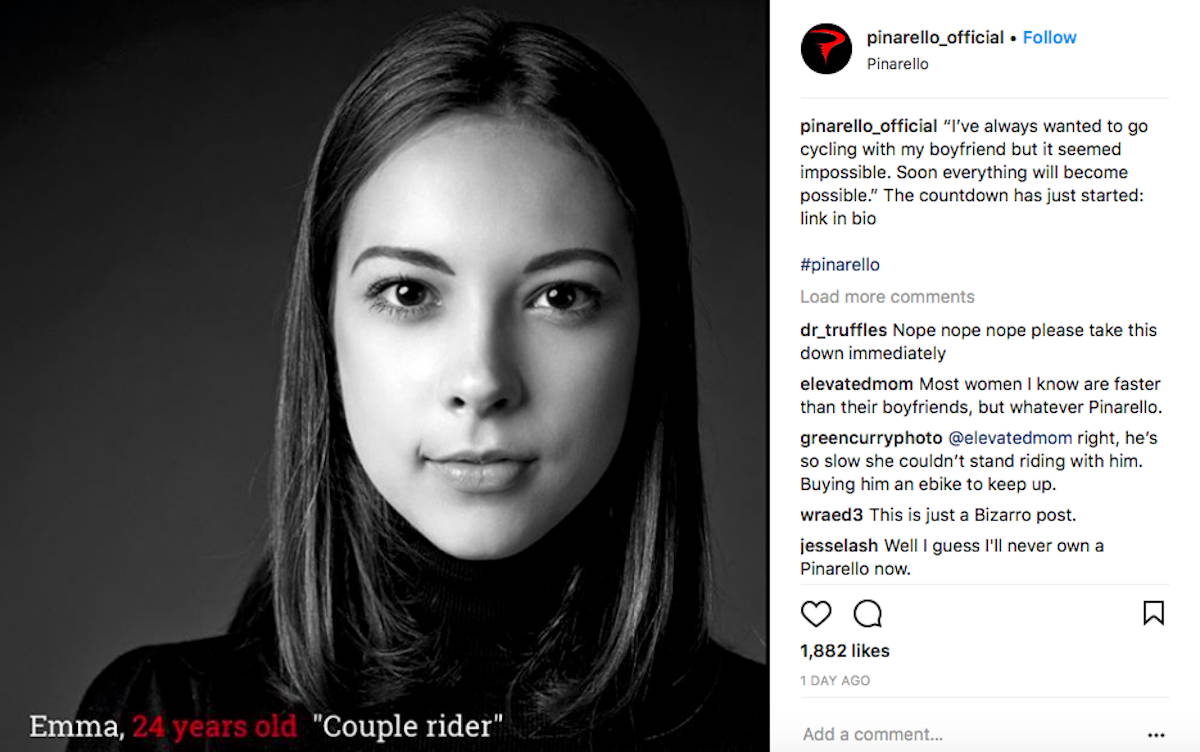 When news emerged earlier this week about the launch of Pinarello's new e-bike, the Nytro, at first it seemed like a solid, positive step from a major bike manufacturer to catch the growing wave of e-bike sales.
After all, e-bikes are a great way to get more people - men and women - onto two wheels. They reduce congestion, improve health, and offer a more realistic way for those who aren't (yet) hardened cyclists to get around. Even seasoned cyclists are getting an irresistible e-cycling bug.
It's all good, right?
But then the Pinarello marketing department got hold of it. And that's where the trouble began.
Here was their launch wording:
"Nytro aims at a wide target, from the one that has no time to train but would never miss a weekend ride with friends, to women who would like to follow easily the men's pace, or even the ones who desire to experience cycling as a new way of life, climbing easily and going downhill safely, enjoying every single minute on the bike."
Their target market, it soon became, clear, was largely women. And not because of the independent, life-affirming sense of freedom and exhilaration that cycling can give you. No, it's so you can keep up with your boyfriend.
To say the reaction was negative would be the understatement of 2017
Could their intended message have got lost in translation? We'd kind of hoped that. But then Pinarello used the story of a 24-year-old "couple rider" who's quoted saying:
"I've always wanted to go cycling with my boyfriend but it seemed impossible. Soon everything will become possible."
The top image is taken from part of Pinarello's Instagram launch campaign. For obvious reasons it was deleted, but not before it had been captured for posterity and begun merrilly (or not so merrilly) 'going viral'. So, how's the reaction been?
To say it was negative would be the understatement of 2017. Men and women alike have railed against the patronising, 'dinosaur' attitude espoused by the campaign.
The hashtag #PinarellNO quickly began trending on social media, with many people promising to boycott the firm - a potentially expensive loss given the price tag of many of their models.
Journalist and presenter Laura Winter was typically forthright:

Pro riders were amongst those quickest to respond. This from Christine Majerus was not untypical:

It's not just women who are irritated - many men have taken umbrage at the implication that they'd insist on riding at their own pace and not adapt to ride at a pace that works for both. Plenty have admitted that they're the ones who could do with mechanical assistance rather than their other halves!
Here's Stef Wyman's brilliant take, for example:
The one hope of a silver lining was this kind of response from Kathryn Bertine.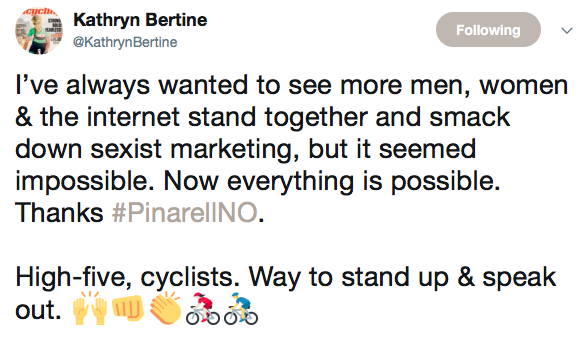 If anything it seems the participants within the cycling world are increasingly galvanised by this kind of situation, and are of one mind about the importance of cycling appealing to everyone equally. And that's an encouraging sign of progress.
Our take - Liz Bingham, VeloVixen Founder
I've always been a distant admirer of Pinarello - never a rider of it, sadly, given the price tags, but I've been known to press my nose to the windows of their Regent Street flagship store like a Dickensian urchin. They're an iconic brand in cycling, aren't they?
And clearly this will be a shock to plenty at a proud Italian firm and their followers.
But in the wake of stories like Assos' widely heralded change to their famously sexist marketing strategy last year, and then the furore surrounding Cycling Weekly's booboo in September this year, you'd think marketing departments would be ultra 'on it' to avoid this kind of fall out.
If it causes a single woman to think less of herself, then damage has been done
Essentially they're saying that women probably need an engine to keep up with their menfolk. That doesn't go down well these days, and why would it?
Given that Pinarello have hardly surpassed themselves in their contribution to women's cycling, either through their product range or sponsorships, let's hope this is a wake up call that results in a more positive attitude towards what could be a lucrative market for them.
The real problem is that at a time when our road networks, bodies and environment need all the help from increasing cycling numbers that they can get, this puts women on the back foot. That's unnecessary. If it causes a single woman to think less of herself, on or off a bike, then damage has been done.
With any luck, Pinarellno-gate is a further flushing out of another dusty corner of the cycling world that needs to wake up and realise we're in 2017, not 1957.
But will Pinarello get that second chance with women? Judging from many of the comments on social media, their market may have just shrunk.
What do you think? Is it a bit of an overreaction to a naive piece of marketing? Or should Pinarello be justifiably be castigated by the cycling community? Let us know in the comments below?