It's now just over a week since I returned from my first ever 'proper' cycling holiday with 9 other ladies.
We went to Girona for the Girona Cycling Festival - run by the lovely Saskia and Dave from Bike Breaks. I think I am just about recovering - the fatigue did hit, but the adrenaline is still flowing!
I thought I'd write a bit of a post that encapsulated my thoughts, experiences and feelings from this new adventure as it may help others like you to choose a cycling retreat for themselves.
Plus there are a few lessons in my story that you should definitely heed!
*   *   *
The story starts waaayyyyy back in Autumn last year, when our fearless leader Emily sent a WhatsApp saying "Who fancies a trip to Girona in June?".
Honestly, this was the hardest thing I've ever done...
I was absolutely loving my riding at the time so put myself down for a maybe before beginning negotiations with my husband over time off and childcare - I'm a very lucky lady with my husband as he's a super amazing Dad and understands my need to be independent and escape now and again. Logistics solved and I was signed up.
As the time got closer, I became more and more anxious.
"How can I cope with riding every day for a week?"
"How will I manage the ridiculous climbs?"
"Will I survive in a villa full of women for a week?"
"I'm not fit enough!"
... and other such provoking questions littered my mind - alongside "What the hell do I pack?".
Yes, I realise the last one is obvious, but like many of you I'm sure; I'm a notorious over-packer and I didn't want to embarrass myself lugging around a bag of stuff I'll never use.
Cycling Holiday Favourites
I needn't have worried to be honest, all 10 of us had different issues with packing and I didn't have the biggest bag. The winner was Tracey - we all giggled one of us could have travelled inside of her humongous case!
This holiday would also represent the longest time I'd been away from my daughter for something that was for myself, rather than for work - which I struggled to come to terms with.
So I had to practice a lot of self-compassion and reiterate to myself that I am a Mum, but also an individual who needs time for herself on occasion.
I've always been of the opinion that I want my daughter to see a self-starting, motivated and ambitious woman as well as a loving Mum - but it's not always that easy in practice of course.
... literally the most mental thing I have ever done
Anyway, this was something else I didn't need to worry quite so much about as every time I Facetimed her whilst away, she essentially wanted to speak to all of my 'friends' rather than me and was more interested in continuing to watch the TV or do what I'd distracted her from - a sign she was perfectly happy without me!
We stayed in an absolutely beautiful location, just outside Girona called Púbol, in a villa we had all to ourselves. La Bruguera de Púbol has beautiful gardens, a pool and stunning countryside for miles in each direction.
I shared with my good friend Beth who, like me, enjoys her own space - so we were comfortable with being able to leave each other alone when we sensed a need.
Finally, the cycling arrived!
The Girona Cycling Festival included 3 'competitive' events: a timed hill climb, a nocturne criterium around the town of Girona and a 120km Gran-fondo with the option of the 'Rocacorba challenge' adding 20km and a s**tload more climbing!
Alongside the 3 competitive events, the festival offered 'shop rides', meals out and jazz-nights - a fully inclusive and extensive programme of things to do.  
The hill climb was up first, on a gloomy and rainy day. Nerves were jangling as we knew we had to climb the 'harder side' as the normal side was closed for roadworks.
After every lap I wanted to throw up - but loved it!
Once there, nerves began to wane as the atmosphere was amazing despite the weather - and I must say, us 10 girls created a lot of that atmosphere.
There weren't many female entries into the festival and by the end of the week, pretty much everyone knew us as 'The Bedfordshire Girls' and we had many strangers just come up to chat to us as they enjoyed our energy at the events.  
I was last off the start-line of our group, which meant a long wait and a potentially cold and damp experience. So I just set about cheering everyone off and dancing around to keep myself warm.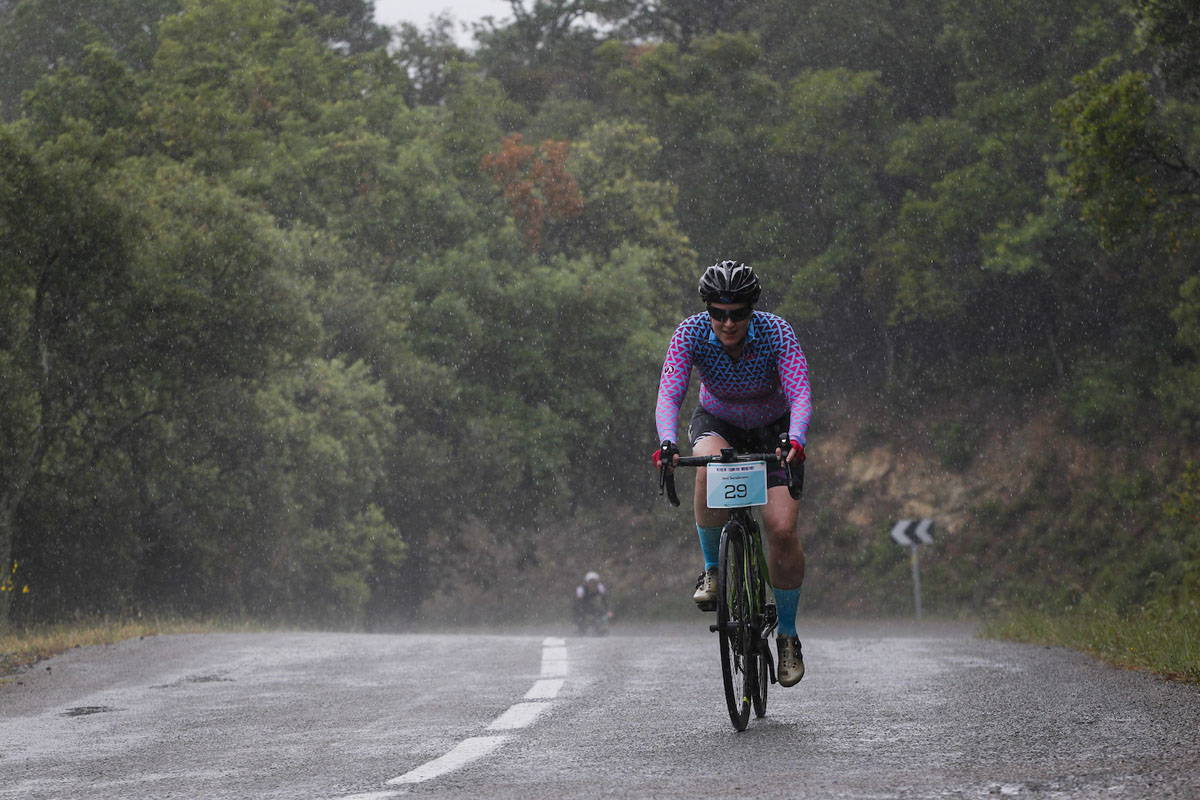 The hill climb itself was tough - for the first 2.5km my legs screamed through the lack of a warm up, but after that I absolutely loved the challenge and only wished the weather had been better to experience what I suspected were incredible views.
My thanks go to the organisers 'cheerleading' squad set along the route and to my group of girls who waited out in the rain when they finished to cheer me over the line.
Our group added to a fabulous experience by 5 of us getting on the podium! 2 first places, me in second in my category (whoop!) and 2 more on the third step - incredible. Although it did leave us with some immense trophies (including 2 legs of ham!) to get back down the mountain!
The descent in the pouring rain, was scary, I'm not going to lie. But disc brakes and understanding friends helped to make the experience less anxiety-inducing.
Day 2 involved a (very eventful!) shop ride.
To cut a long story short: a 23km ride just to get to the ride along main roads, several punctures and a long wait for a friend. Then us getting lost on the way home, one of the group sadly taking a fall and the route taking us on road bikes across gravel tracks…
A long day and - although an experience - I came back to the accommodation with a bit of a headache from being out so long. An early night followed!
The next day, a smaller group of 6 took us off to the coast for a day direct from the accommodation.
'Climb, coast, climb' the route was called, and it was a stunner!
Beautiful switchback climbs in lush tree-lined roads then a gorgeously smooth descent down to the coast of Palamós - a place close to my heart that I stayed for over a month nearly 20 years ago.
Coffee and ice-cream on the beach followed before the climb back home. A quick turnaround and a ride to the train station took us back into Girona for the famed 'Nocturne criterium event'. One that was bittersweet for me….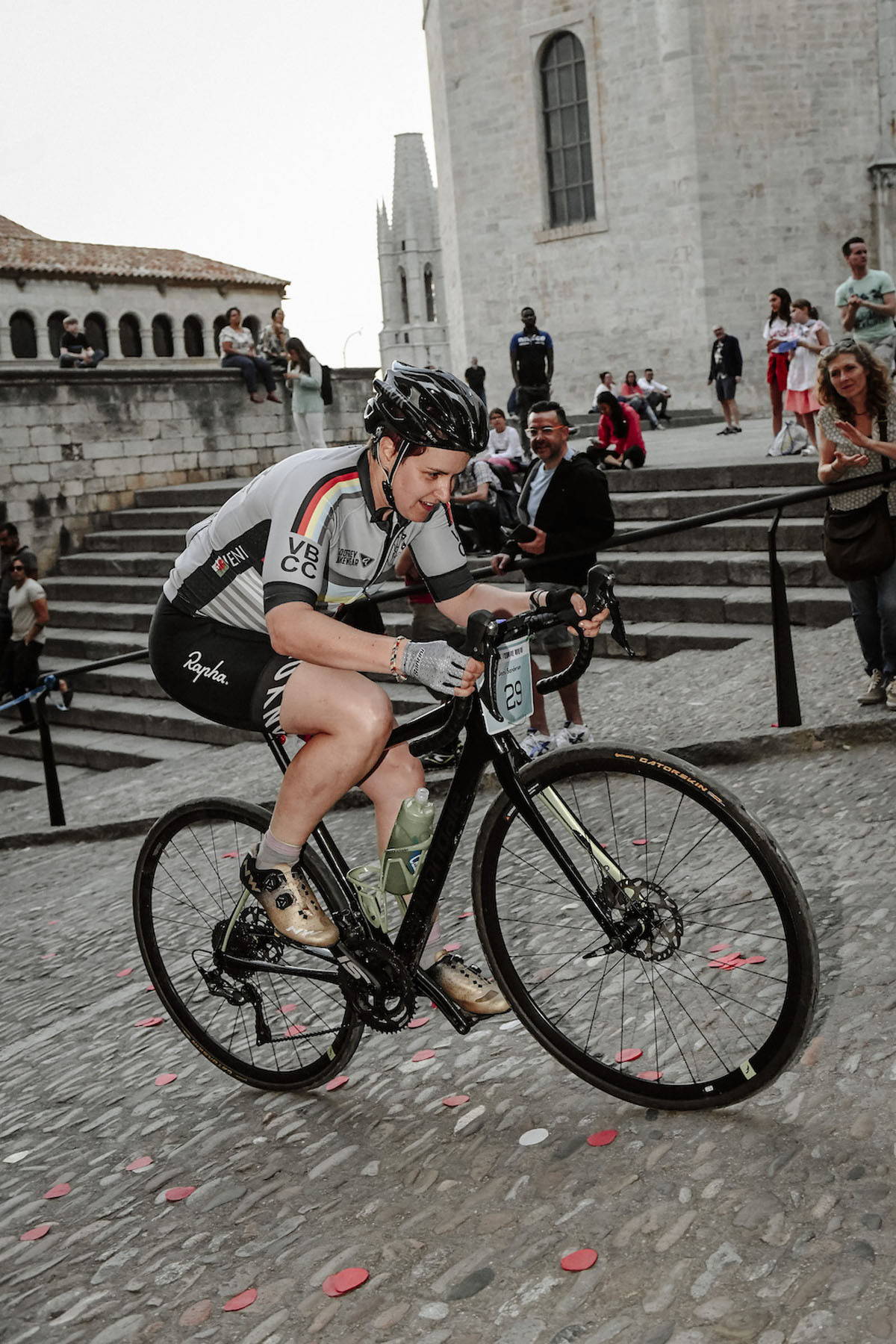 The event was a cobbled 'crit' race where only a 250m section of the course was 'timed' as it was a gruelling cobbled climb, guaranteed to bring out the best pain faces around.
You had to complete the timed section at least 5 times to provide an average score. 8 of us took part and we were the majority of only about 12 women taking part in total. Winning at life.
Honestly, this was the hardest thing I've ever done, after every lap I wanted to throw up - but loved it!
Unfortunately, after lap 4 I stopped for a wee at the loos just beside the race and when I came out 60 seconds later - my bike had been stolen.
Such a mixture of emotions left me balling my eyes out and apologising profusely to the festival organisers who were also the owners of the rental bike.
(Just as an aside, they were fantastic and were so kind to me).
I even saw 'thief' on my bike and gave chase on foot...
I needed a good hour to calm down and realise that I simply couldn't do anything about it now and I shouldn't let it ruin my holiday.
I had my first gin & tonic for 18 months to help me relax and had a very late night dancing and singing with my friends.
Especially when our Louise came FIRST in her category for the Nocturne. Leading to Rachel giving us the infamous (slightly drunken) 'speech that wasn't a speech' in recognition of Emily telling us how amazing this event was for the past 3 days and most of us considering not doing it through fear…
Good job we listened to her.
After the emotion of the previous day, and the need to go and visit the police station to report my bike stolen with the lovely Saskia from the hire company (who was amazing yet again) I had Friday 'off the bike' - partly because I was tired but also, you know, I didn't actually have a bike to ride!!!!!
Three of us took a taxi into Girona to explore the beautiful town and experience a bit of local culture. Surprisingly, I even saw 'thief' on my bike and gave chase on foot - which ended in him getting away but me getting a photo of him to help the police. (The thief turned out to not be too bright!).
Saturday came and I was an extremely lucky girl as one of our group was leaving early and was able to lend me her bike to ride the Gran-fondo - otherwise I would have had to sit out.
I had to ride saddle and pedals that I was not used to, but it was a small sacrifice to be able to take part.  
Lots of talk was had about whether we were going to take part in the 'Rocacorba Challenge' which actually ended up getting quite emotional and some started to worry.
The challenge was after only 20km of a 140km sportive (if you did the challenge, 120km if you didn't). So if you completed the 'brutal' climb, you still had 100km and 4500ft of climbing to complete to get to the end…
The start of the fondo sportive was literally the most mental thing I have ever done.
I was totally ready for my double burger and to deliver the bike back to the shop
We tried to stay with the main pack, which meant TANKING it at over 21mph average at the beginning, a pace I just couldn't keep as I worried about managing my effort for the rest of the fondo!
Anyway, none of us had needed to worry about the Rocacorba challenge as even at that blistering pace, we still arrived at the bottom of the challenge too late to start it, so the decision was taken from us in the end!
So with relief flowing through our veins, we continued on our sportive experience.
Within the group I was riding with, 4 were extremely strong and I had begun to 'hang on' a little - I felt comfortable with the speed but not with the distance and the lack of knowing what was to come, if I maintained this pace I wasn't sure I could maintain it to the end.
I started getting anxious and frustrated and found I'd stopped enjoying my ride, so I backed off and let the faster riders pull away.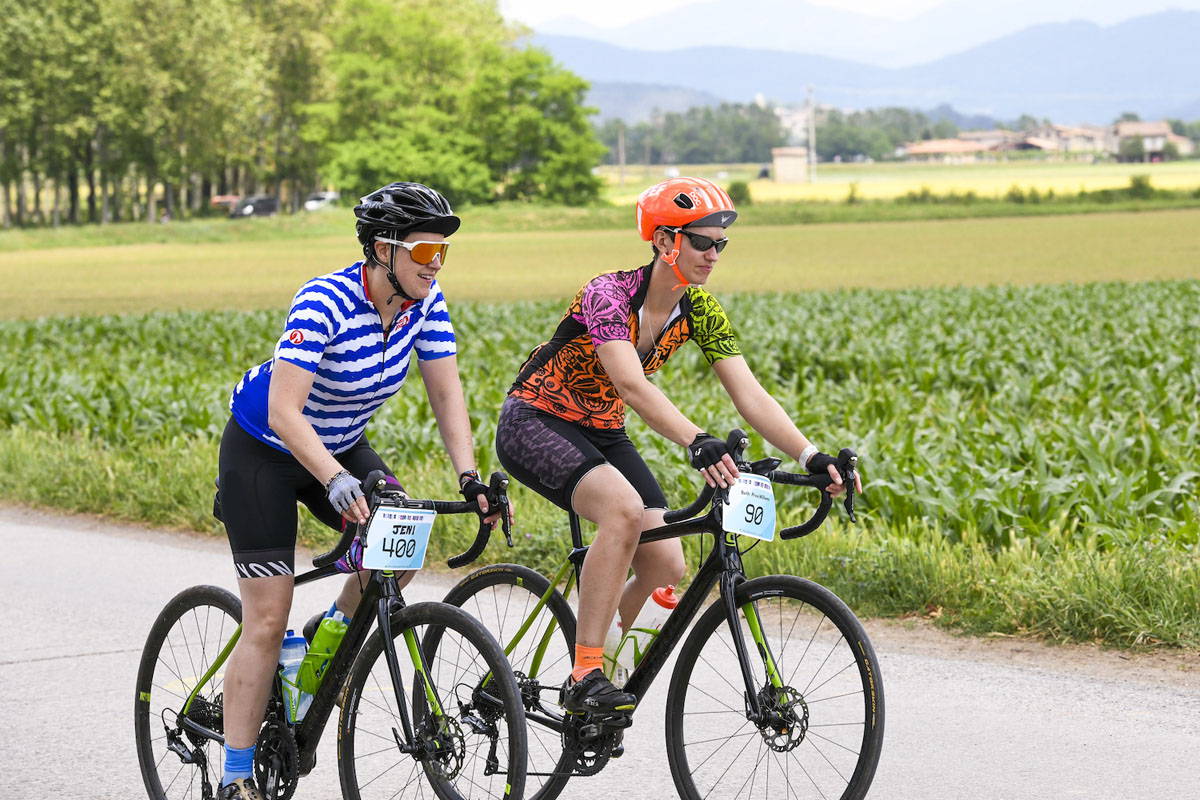 Beth stayed riding with me, which I loved, and we enjoyed a sportive at our own pace, enjoying the scenery, learning loads on the big climbs and even having our own police escort stop traffic for us for a couple of miles.
At about 66 miles, I realised that although I was having a good time, I don't really like rides over 60 miles - I just don't. The sportive was just over 76 miles and I was totally ready for my double burger and to deliver the bike back to the shop!
But what a day and what scenery to ride through - something I'll never forget.
Oh, and to top it all off, Beth and I finished the festival by sharing the third step of the podium for the Omnium.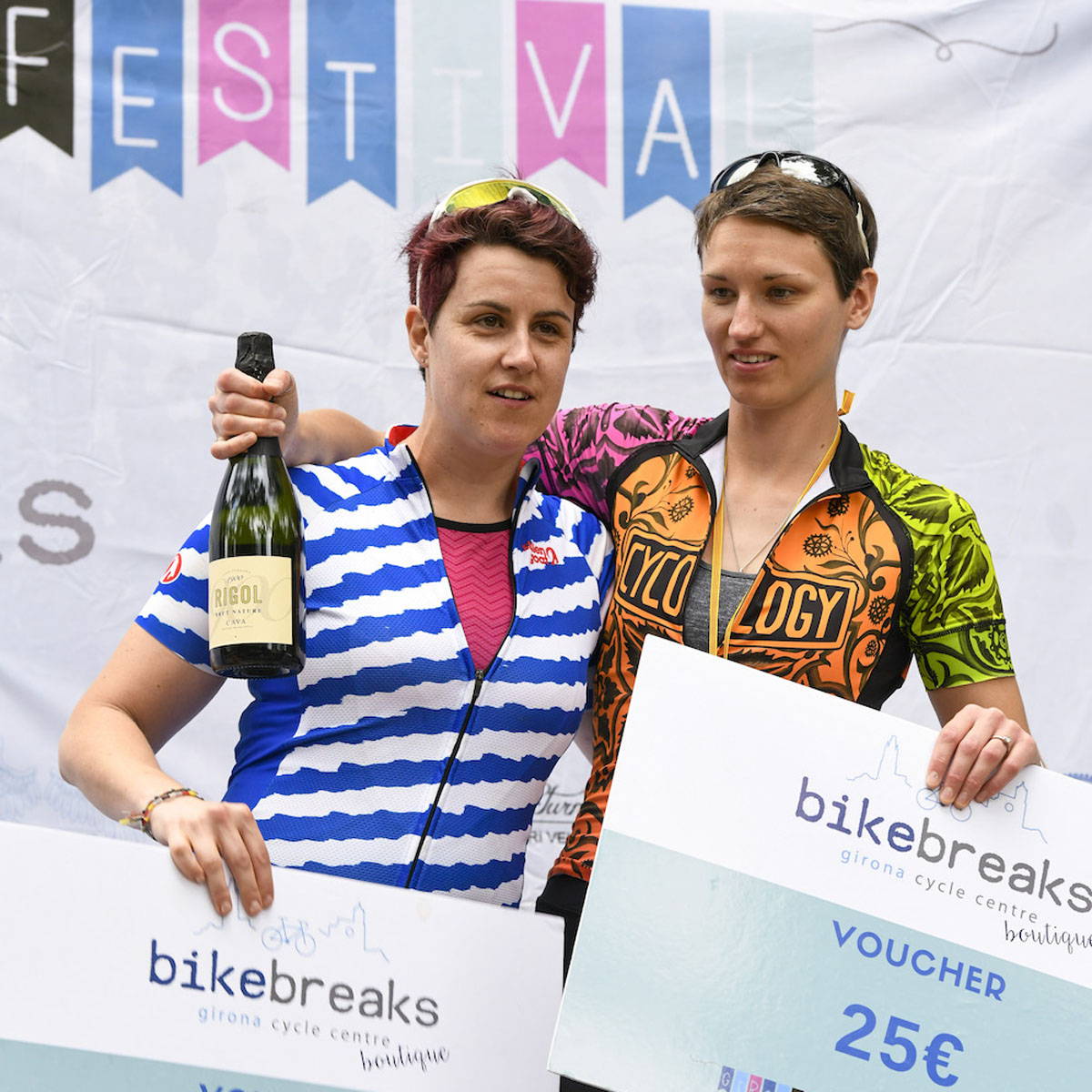 Although directly after the sportive, I was ready to give the bike back, I actually didn't want to come home (apart from to see my family).
I love this area - the culture, the scenery, the beauty and I have absolutely loved riding my bike here.
There's something special about exploring on two wheels with friends. The shared experiences have created memories (and entertaining photographs!) that will live with me forever and as a group.
We'd pretty much re-booked to go back to the festival again next year…. Why don't you join us?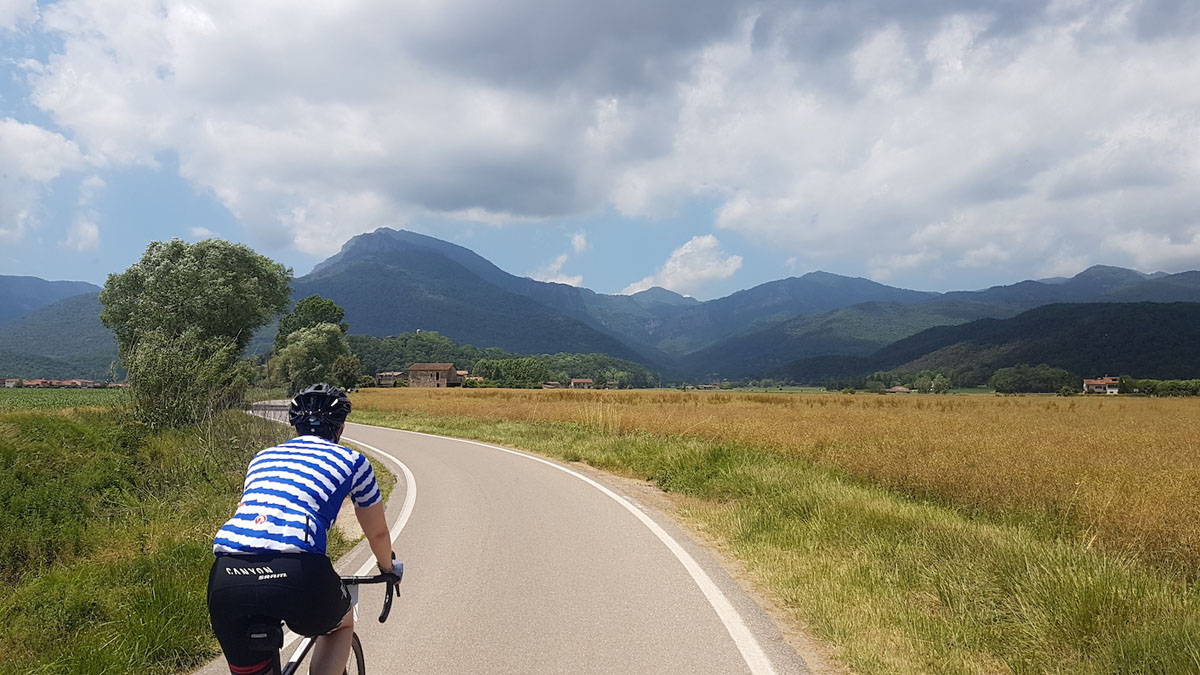 Lessons from my first cycling holiday:
1. Don't pack too much off-the-bike stuff, you won't use it unless you're a proper party animal!
2. Travel wash was invaluable. I showered in my cycling kit, and then washed them with the travel wash whilst still in the shower!
3. If you're going in a group, make sure you book accommodation that allows you some escape if you need it.
4. Say yes to as much as you feel comfortable with - try not to go home with regrets for not taking part in something.
5. Don't be afraid in your groups to work out speeds and separate if you have different goals or intentions - everyone needs to get what they want from their holiday so don't expect everyone to stay together the whole time.
6. Don't buy kit just for the trip, make sure you get a reasonable amount of time in it before you go - you really notice which bits of kit work for multiple days (like my shoes!) on the bike when you use them intensively.
7. Join in with the atmosphere - make friends, share your energy - you don't have to be the life and soul, but enjoy the different cultures and tribes you can meet and set an intention to learn new things from new people.
8. Don't put too much pressure on yourself before you go. Other than the included 'events' there were no plans made for which others rides we would do. This meant we could see how we felt each day and that took the pressure off and stopped me being too anxious about the amount of mileage we might ride.
9. CHECK your insurance (see below) - especially if you're hiring a bike! a) do they insure hire bikes in the first place? b) do they cover them during races or organised events? And c) do they cover the FULL value of the hire bike?
10. DO IT! Listen to your fears and put plans in place to manage them. I was worried I couldn't cope with the amount of riding during the week (I get migraine if I do too much and don't manage my body well) so plan well and know how to best nourish your body and mind to ensure you're at your best.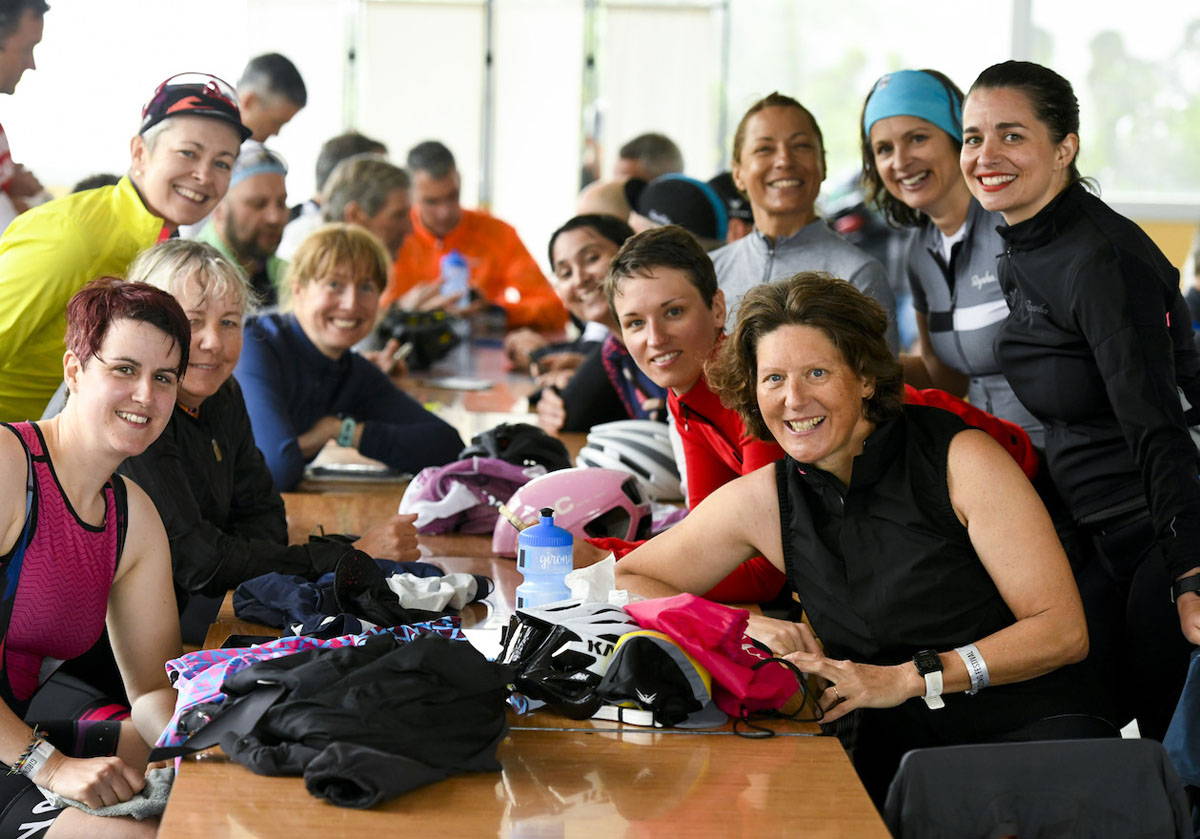 *A note on the theft of my bike:
I discovered that my insurance wouldn't have covered the hire bike. I didn't lock it as we were mid-event and even if I had, I probably wouldn't have been carrying a D-lock that would have covered me for insurance, plus they didn't cover hire bikes because they were classed as 'other people's property'.
Some of the girls DID have cover for a hire bike - so do check, but equally, some found it would only cover £600-£700 whereas the bike was worth £3K!
Saskia and Dave from Bike Breaks were extremely kind and helpful and not at all pushy when it came to everything. I am extremely fortunate that a week after I left Girona, the thief stupidly cycled past the hire shop - complete with my bottle, lights, wahoo mount, pedals and saddle - still on the bike and they were able to retrieve it!
But PLEASE: check your insurance!
Lastly, a massive thank you to Emily who organised our trip brilliantly and painstakingly answered all of my dumb questions before and was literally the most chilled person I have ever met.
Also, thanks to Mike and Michelle from La Bruguera de Púbol for letting us just be ourselves in your accommodation, to Saskia and Dave from BikeBreaks for a fantastic event and Luana from Bikebreaks & Daisy from The Broom Wagon for keeping me calm after the bike stealing incident. You're all wonderful people.
Are you craving your cycling tribe?
About Jeni Sanderson: Jeni is a Positive Change Consultant specialising in using positive psychology and appreciative inquiry to energise positive change in both individuals and organisations. She offers life coaching for those looking to find clarity or to 'discover their positive core' in order to flourish and is a keen cyclist both on and off road, competing with our very own Fran in the Central Cyclocross league and enjoys the road and trails as well. when not working or on the bike, she spends time with her husband and daughter in a village just outside Bedford. You can find out more about Jeni on her website: www.jenisanderson.com