Dark days, damp, chilly weather and greater chance getting colds can make winter a grim time of year. However, staying fit and keeping warm can help overcome those winter blues, and you may even end up enjoying this time of year.
At the recent Rouleur Classic I met two of the top cycle racers in national and international racing, SRAM ambassador Alice Barnes (Canyon-SRAM) and Coryn Rivera (Team Sunweb). They talked about how they stay fit and warm over cold, damp months, and reflected on their road racing season.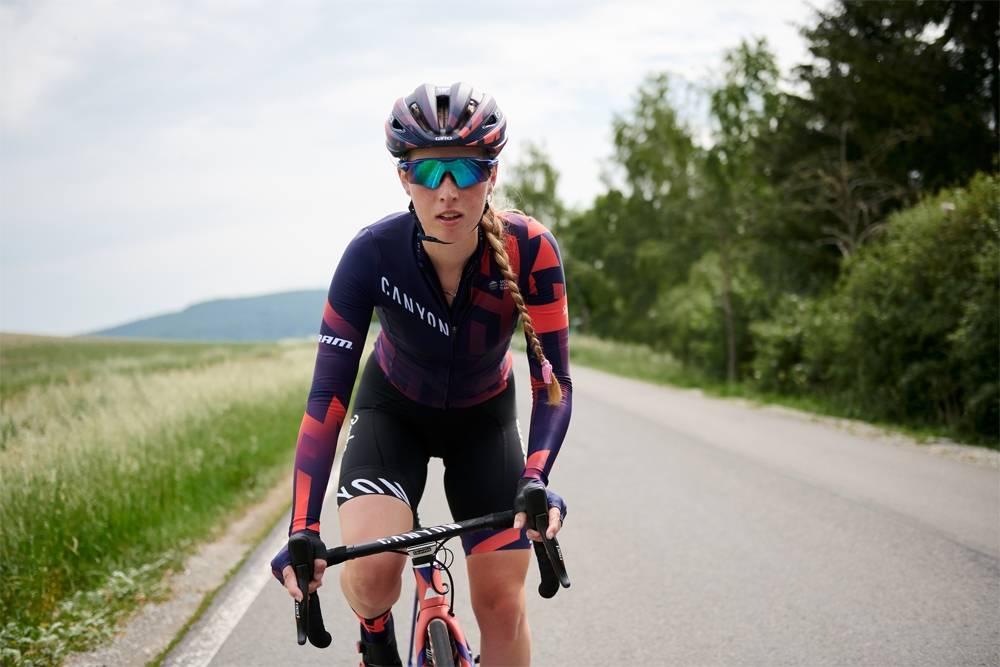 Alice Barnes (Canyon-SRAM)
Riding
Mountain biking is very good to do in bad weather because it's safe, whether it's snowy or icy as it's off-road and you've got more grip. Because you're climbing so hard, and you've got less speed there's not so much wind chill.
I went out mountain biking with a few friends at Llandegla trail centre recently. It was pretty cold but we were all boiling just because it was so much more demanding than riding on the road.
Llandegla is really good because we went with some of the track cycling boys who hadn't mountain biked for years, and because it's a trail centre everything was rideable and there was nothing really extreme. Trail centres are good because you can get into mountain biking gradually, and if you don't have a bike you can hire one.
I wouldn't risk going out in really bad weather because especially with things like Zwift now, there's no need to. Or you can just go to the gym.
When we get really bad weather I go on the turbo trainer. If you're doing a two-hour ride on a trainer it's probably better for you than doing three hours on the road in terms of pedaling and training because it's still really tough.
I also go on a couple of warm-weather training camps between December and February. Having said that, I live in Manchester, and In fact, for the kind of races I do – I prefer the Spring Classic races* – I kind of need the bad weather that you sometimes get in the Peak District!
Clothing
If you are going out and it's really cold I'd just say to layer up – I quite enjoy having more thin layers rather than thick clothing. There are so many different clothes out there to buy to make up the layers.
Put on mudguards too, and I'd advise riding with a light all the time because you can never be over-cautious with safety.
My favourite piece of kit is bibless longs. It's just because I always need to stop for a wee on a ride and at the end of the day if it's raining or cold, with bibless longs you can just whip your bibs down rather than needing to take off your coat and jersey as you would with bib shorts!
Alice's season
This year has been really good. It's been quite different from last year. I think I had 54 race days this year, compared with 35 last year.
Last year [in Trek-Drops] I was very much a leader and I had quite a lot of pressure in every race so it was stressful, whereas this year I have had a new role, which I have enjoyed, and I've learned a lot. I went to Canyon-SRAM with a bit of guidance from Hannah, [Alice's sister] and when she renewed her contract with them for another three years I knew it would be a pretty good team for me.
The highlight of my season was when our team won the World Team Time Trial Championships at Innsbruck. It was tough to get selected for the race, but to win it was pretty impressive, and standing on the top step of the podium with the team was really special.
I haven't got my race calendar yet for next year, but I reckon it'll be the same as this year. I did a lot of races that suited me and I had a lot of race days, which I quite enjoy.
The World Road Race Championships in Yorkshire will be a massive goal for me. These days, making the [British] team is pretty tough, so that'll be one of my big hopes for 2019.
A home world championships doesn't come round very often so you've got to embrace it.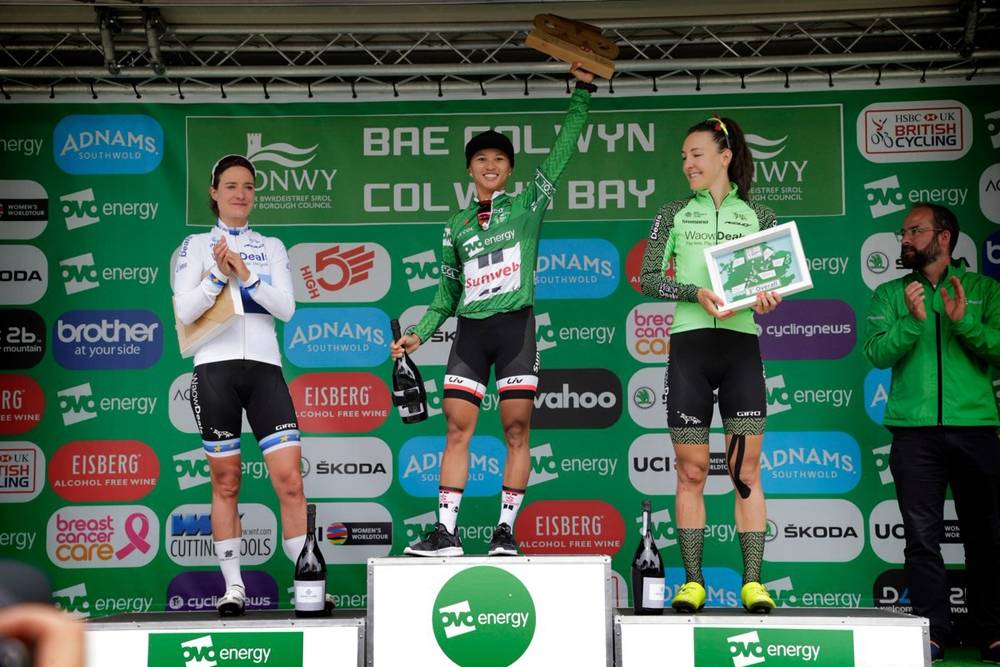 Coryn Rivera (Team Sunweb)
Clothing
I'm from Southern California, about an hour south of Los Angeles so the weather's always nice and that's where I spend the winter. At most I wear arm warmers and a vest usually, so maybe I'm not the best person to talk to about training in the winter!
However, I am based in Holland from early Spring, for the Classics*, so I end up riding in probably one of the worse kinds of weather to train in, and I have to adapt to that.
It's important to keep your body warm, and as dry as possible if it's raining, to avoid getting sick. I've learned to change my clothing once I start sweating too much, and it's getting wet and cold.
I think the crucial things are hands and feet – keep your hands and feet really warm. Sometimes I ride with two sets of gloves in training.
I start off with a heavier pair to warm up my hands but as soon as it begins to get a bit sweaty I switch to a lighter glove to find that balance of my hands being warm and just kind of cooling, rather than pooling sweat.  
For my feet I just wear a kind of windproof booty that is fleece lined, and it makes it nice for your toes. Sometimes when it's really cold I put some toe warmers on top of my shoe and underneath my booty to keep my feet warm, so I am still able to feel my feet.
The longest time I ride for is about four hours. That's a pretty long time in cold weather.
If it's really bad weather I do two smaller loops of two hours with a break in between to switch to a dry undershirt, before I head back out for the last two hours. I think that's important when you are doing a longer ride.
My favourite piece of cycling kit is definitely the neck buff and the little scarf. My head gets warm when I'm riding so I usually don't like a skull cap or a head band, but when my ears get cold I pull up the buff over my ears and my face and keep everything warm.
Coryn's season
My season has been really good, though much different from last year which was my first year of being full-time in Europe. In 2017 I had a few victories in the Spring Classics, whereas this year it wasn't quite the same. But I definitely turned it around and had a really good summer.
My biggest achievement this year was the Women's Tour. I'm a one-day racer, and I didn't really see myself as a stage race rider, but the courses really suited my strengths.
So we were able to get ourselves into a position to be in the lead, and defend it. That was something really special and different for me.
For 2019 I will definitely target the Spring Classics, and I want to defend my title at the Women's Tour. My biggest goal of the year is going to be the World Championships in Yorkshire because I do think I have a good chance and the course suits my style of racing.
Two years ago I raced at the Tour de Yorkshire on similar kinds of roads, and I got second there, to Lizzie Deignan when she went off the front. It may be a different story for the World Championships, as I know that kind of riding is something that I really enjoy and can do well at.
Winning the Sharon Laws Rider of the Year Award in honour of Sharon, who was my team-mate in the past, was really special to me. I hope she's looking down happy and smiling that I had won this in her name.
Craving more Health and Wellness advice?
*The Spring Classics are a series of historical one-day races held mainly in Belgium, but also in France, the Netherlands and Italy. They take place between late February and April, and are characterised by their tough conditions – either on long stretches of cobbled, gravelly roads, some with a series of short sharp steep climbs. The distances are longer than other races, and the weather can often be windy and rainy. The most famous women's races are Strade Bianche (Italy), Tour of Flanders (Belgium), Flèche-Wallone (Belgium), Amstel Gold (The Netherlands), and Liege Bastogne Liege (Belgium).