Our children need to learn that women's bodies are strong, capable, resilient and fast.
- Bridie O Donnell, medical doctor and former UCI Hour World Record holder - a record she set aged 41 years old.
As a female mountain biker who waved goodbye to 40 quite a while ago, I am happy to report that I am surrounded by women of a similar age and older, who love to ride and/or road cycle.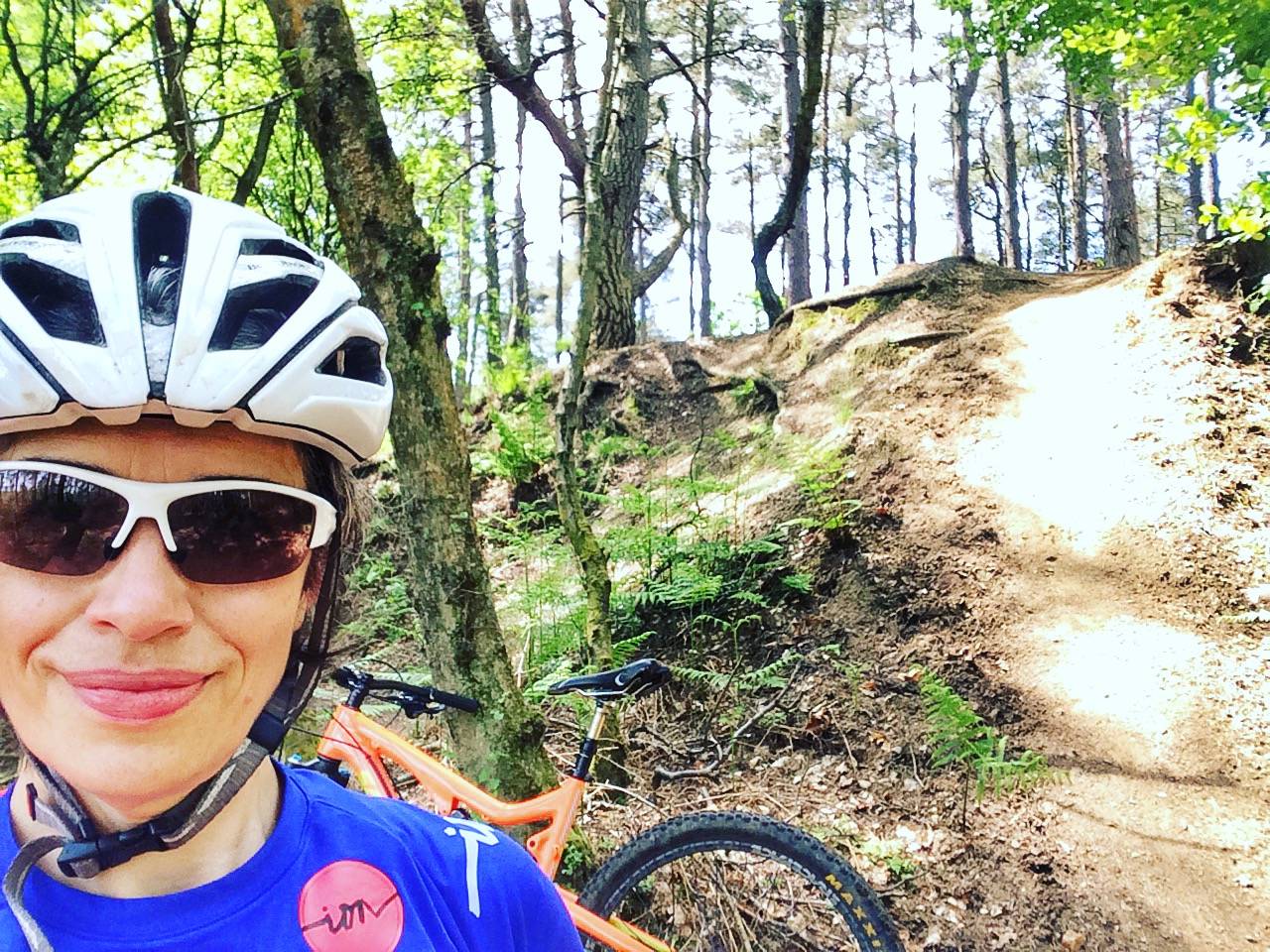 - Adele tackling the visible signs of ageing with a large dollop of mountain biking
Like women of any age, some prefer to ride within their limits, others set personal challenges such as improving skills or training for a sportive, while others go hard to win races, top Strava leaderboards and set out to experience new trails or road tours overseas (preferably somewhere hot, with wine).
In fact, some of the most inspiring women riders I know are, as beauty companies like to remind us all too often, 'ageing' – but that doesn't stop them from being fast, feisty and fearless.
But if you imagine that cycling as you get older is all creaking limbs and wobbling, let me reassure you that, in fact, the view from my part of the age road is quite splendid.
For me, the truth about cycling and age is this:
- I have more time to ride. The days when my children needed my 24hr supervision are behind us – to be honest my teenage children are so desperate to have the house to themselves that they're almost pushing my bike out of the shed for me while I'm looking for my lost gloves, again.

- Did I mention losing stuff? That's because I'm also about to mention that taboo of the 21stcentuty THE MENOPAUSE, which brings with it all sorts of unwelcome symptoms – NONE of which DARE to rear their head when I'm shredding the trails. As a friend pointed out 'its not a hot flush, its a power surge!"

- Endurance peaks in your 30s and 40s - but doesn't fall off the edge of the cliff when we pass that age. What's more, I have the benefit of experience to draw upon which helps with training. I also tend to be able to look at the bigger picture (ie. know when its time to go hard or go home), and probably don't worry so much about what I look like with helmet hair (although l look great, obviously!).

- Age is not a limit, even if you are new to cycling. I recently met a woman who had taking up mountain biking at the age of 68. "I love it," she told me, proudly. "And I never thought I would start anything as energetic as this….or as frightening!".

- When I'm on my bike I don't feel my age (whatever that's supposed to feel like!). I'm too busy having fun and concentrating on the trail ahead/the next road climb/my cadence/nailing the next technical section etc. The last thing on my mind is how I'm going to tackle my 'visible signs of ageing', grey hairs or random chin hair. Instead, I just feel great.
So, whether you're an experienced cyclist who continues to ride or are new to the sport, its time to turn your age to your advantage.
Gear to make you feel great - at any age