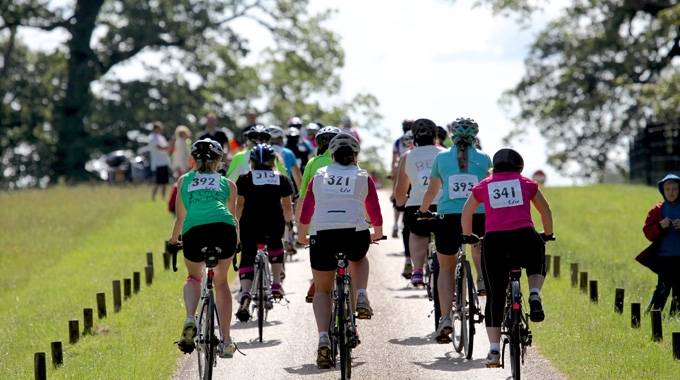 So, you've taken the plunge. You've signed up to lose your sportive virginity this summer.
Perhaps it was a resolution to get fit? Maybe an office challenge? A drunken bet? Or a twinge of charity conscience? What ever the reason be proud you've taken your first step on an exciting new cycling adventure.
Now you're all signed up, next comes that ever important question - what should you wear?
Spring has sprung, and that sportive is potentially only a few weeks away. It probably all seems a bit forbidding and that everyone else taking part is a seasoned pro?
Unfortunately we know there's a little seam of snobbery that runs through cycling and it's easy to be intimidated by apparently experienced cyclists who look like they came out of the womb in lycra.
But shhh… whisper it: a lot of it's just bluff.
Crucially the majority of cyclists are an open-minded and cheerful bunch who recognise that the most important thing is that you're enjoying the sportive, and don't judge you by what you wear or how you look.
So here are our top tips on what to wear while tackling your first sportive.
***
VeloVixen's Sportive Clothing Guide
There are no products matching the selection.
Protect your bottom. If you're doing more than a few miles, you'll need padding. This doesn't have to mean traditional cycling shorts, if you don't fancy them. There are modest calf-length ones, flatteringly cut ones that don't dig into your thighs, and even 'skorts' – shorts covered with a skirt. Take your pick and you won't regret the padding.
2. Layer Up
It's easy to be fooled into thinking that the early morning sunshine's set in for the day. Always take a waterproof, and preferably one that squashes down relatively small, in case you never need it. Even if it doesn't rain, you might appreciate the protection from the wind once you start perspiring. A base layer can also help regulate your temperature under a jersey no matter what the weather.
3. Arm Screens / Warmers
Arm screens or arm warmers - whatever you call them - we swear by them. Start your ride wearing them and you'll have the option to peel them off as soon as you warm up. They take up almost no space to store and make a surprising difference to your temperature.
4. If the Cap Fits
Cycling caps are ingenious. On a cold day they give you an extra layer under your helmet. On a wet day, the rain will run off the peak, not into your eyes. On a hot day, run your cap under a tap to soothe that overheated melon. Plus they look really cool.
5. Style
Don't feel guilty for wanting to look stylish out there. Thanks to most brands taking women's cycling kit seriously over the past few years it IS possible to be fashionable and comfortable on your bike.
There are so many styles and designs available that you can even match your bike frame. We even have a colour filter search on our shopping pages. Equally, don't feel obliged to put on a fashion show. Nobody worthwhile will judge you.
6. Protect Your Vision
Cover your eyes on a long ride with cycling glasses. Make sure insects, dust, grit, pollen and sunshine don't spoil your ride. Whatever filter lenses you choose, make sure you wear some kind of glasses.
7. Get Your Gloves On
Hold on tight: if you're not used to long rides, you might wonder: 'why gloves?' After 50 miles, you'll know why. Well padded mitts will save you from blisters and soreness.
8. Heads Up!
Even if it's your preference not to wear a helmet, most sportive organisers will not allow you to take part if you're not wearing a helmet. Ensure yours fits correctly and sits comfortably so you can rest assured you're protected.
***
Importantly, don't feel you have to go nuts. If you're just starting out on your cycling adventure, we'd suggest building on any trusted kit you already have. Once you're hooked, you'll find there's ample temptation to add to it!
Good luck, and enjoy! And if we can be of any help with advice on what might work, don't hesitate to contact us.