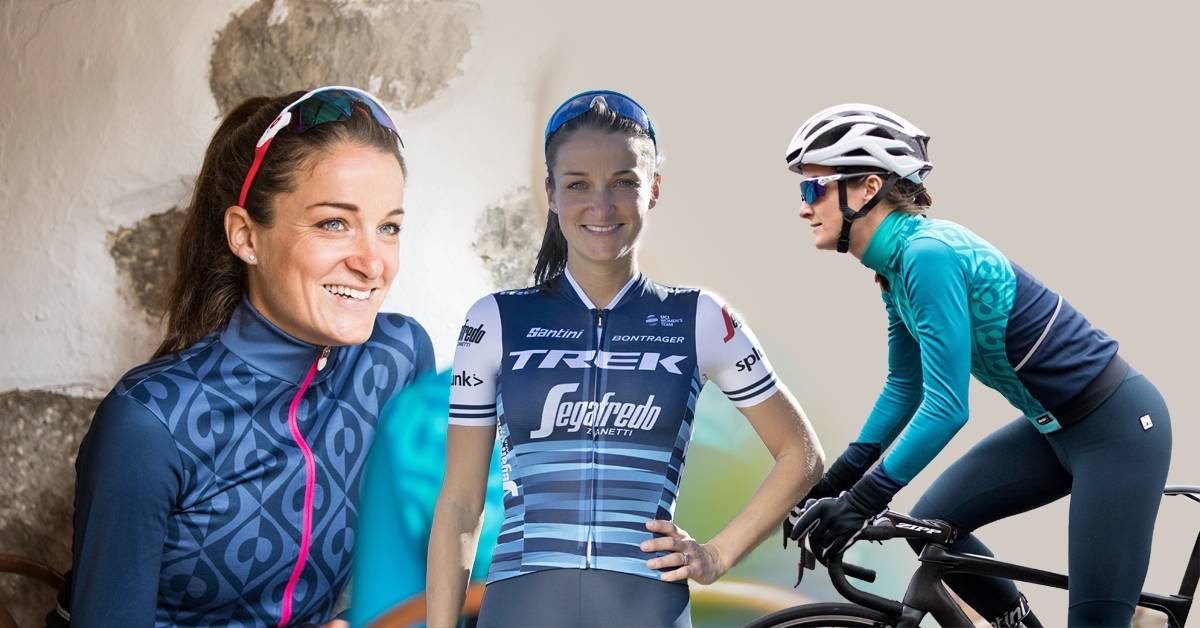 Our regular blogger Maria David recently spent time with the one and only Lizzie Deignan (formerly Armitstead), new mum and cycling icon. Here's what they chatted about:
At the recent Rouleur Classic Festival, celebrating the great and the good of cycling, I caught up with former World Road Race Champion and Olympic silver medallist, Lizzie Deignan, who designed the Lizzie X Santini range.
It's been all change for the 29-year old from Otley, West Yorkshire. She recently became a mum and was showing little old Orla to the world.
As if pregnancy and nappies were not enough, Lizzie's been getting back into training ready to race with her new Trek Segafredo team.
Throughout her pregnancy Lizzie cycled, albeit gently, for the mental and physical well-being that cycling can bring. Even while 40 weeks pregnant she rode the route of the Yorkshire World Road Racing Championships - something that she hopes to contest next year.
I wanted to say "you should be showing off, proud of the fact you're fighting for your right to be out on the bike in Lycra.
In between talking about babies, bike riding and being in a new team, Lizzie told me the story behind her Lizzie X Santini clothing range launched earlier this year.
"I'd been using Santini clothing for a few years from when I was racing with Boels Dolmans.
"I'd always enjoyed wearing their products, so when they approached me and said they'd like to do a personal clothing collection with me, I thought it was really cool.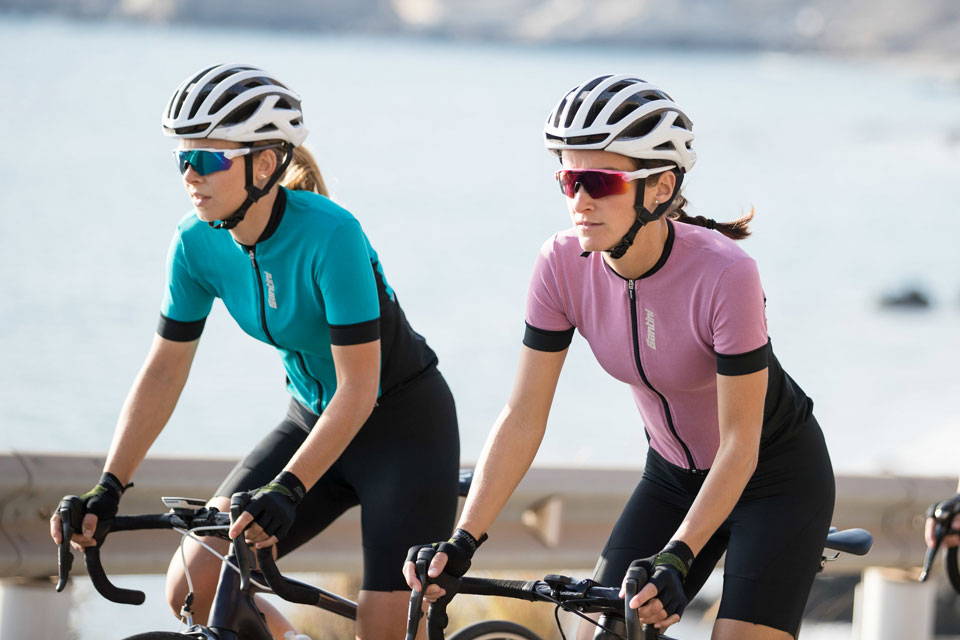 "Often you don't have a choice in what you wear as a professional athlete. It's all about branding for the sponsors so it's not normally design-led.
"So it was really cool to do something that I could help design, and something I'd want to wear myself. When Santini asked me to design something I didn't have to think twice to say yes!
"I like the company as well, an Italian family brand, with two sisters running the firm, and all the products are made in Italy.
these women manage to combine both performance and comfort without compromising on either
"For me, it's really essential that I'm comfortable when out riding, especially with the chammy [chamois]. I use the pink one and it's perfect.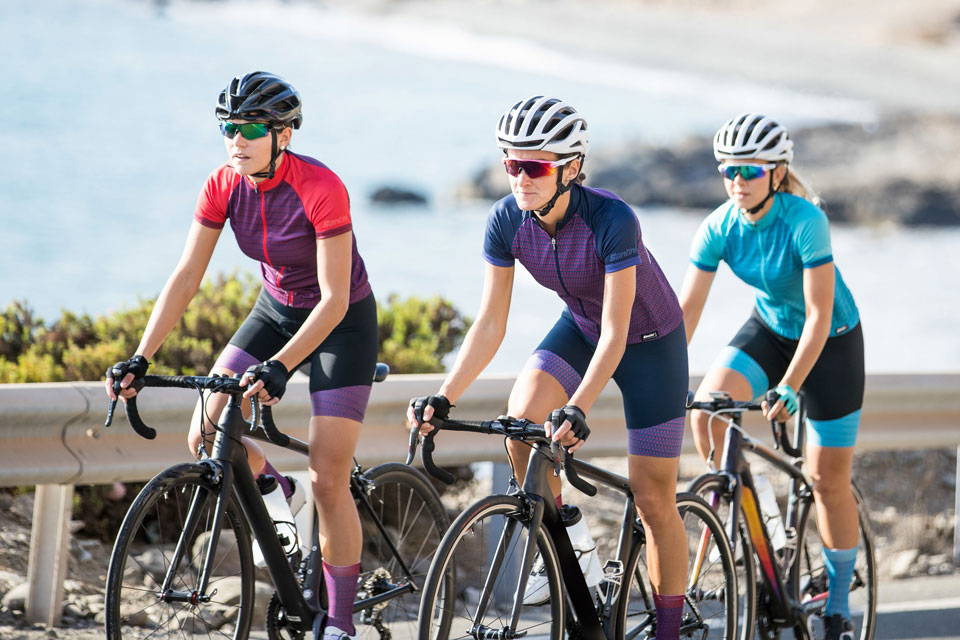 Lizzie (right) plus friend in 2019 Ritmo Jersey | Photo: Santini
"Paola and Monica who run Santini ride themselves. So they have a good idea of what's comfortable and what's flattering for your figure.
"Sometimes you get a nice looking jersey but it compromises on performance, or a performance jersey but it doesn't look that good. But these women manage to combine both performance and comfort without compromising on either.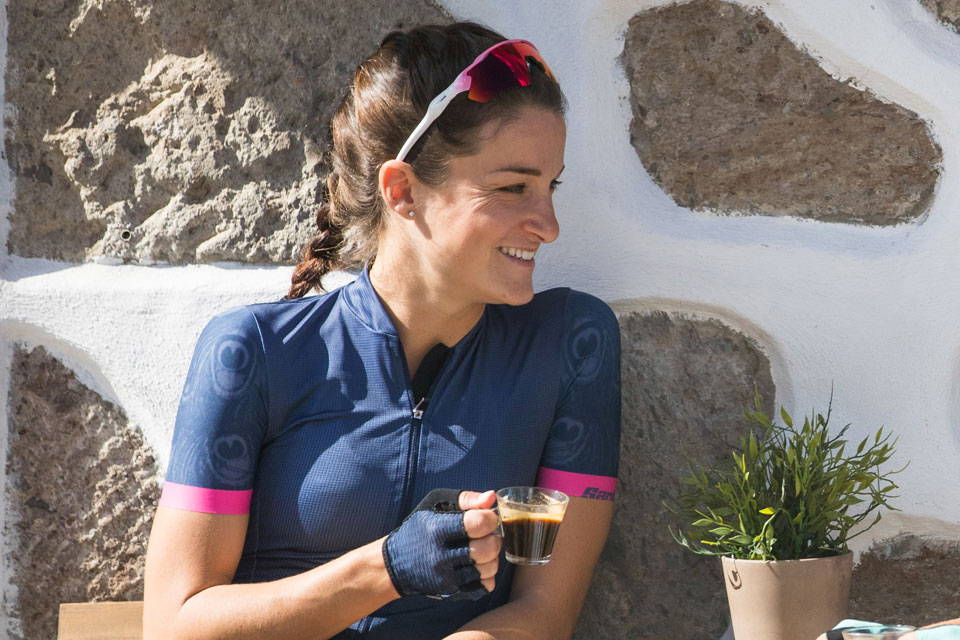 Lizzie post-ride in the 2019 Volo Jersey | Photo: Santini
"My inspiration for the designs came from the peacock. I don't know if it's just a phrase in our family but if someone is showing off we say they are "peacocking around", like when the bird shows off to the mate by opening these beautiful feathers.
"For me it's important that women don't feel insecure about being on a bike or being in Lycra. I wanted to turn it on its head, and say 'no you should be showing off, you should be proud of the fact that you are making the effort and fighting for your right to be out on the bike in Lycra. Why not be confident about it?'
"I love the peacock feather and what it represents, so that's why I chose that design.
"My favourite piece of kit in the winter collection was the women's tights. I know that's not the most design-led but they're just so comfortable. I've not found any tights that match it, so in winter that's what I wear day in day out.
"There are more and more brands out there that are doing women-specific stuff but there's still not a huge range of choice, so it's good to have more variety for women's cycle clothing."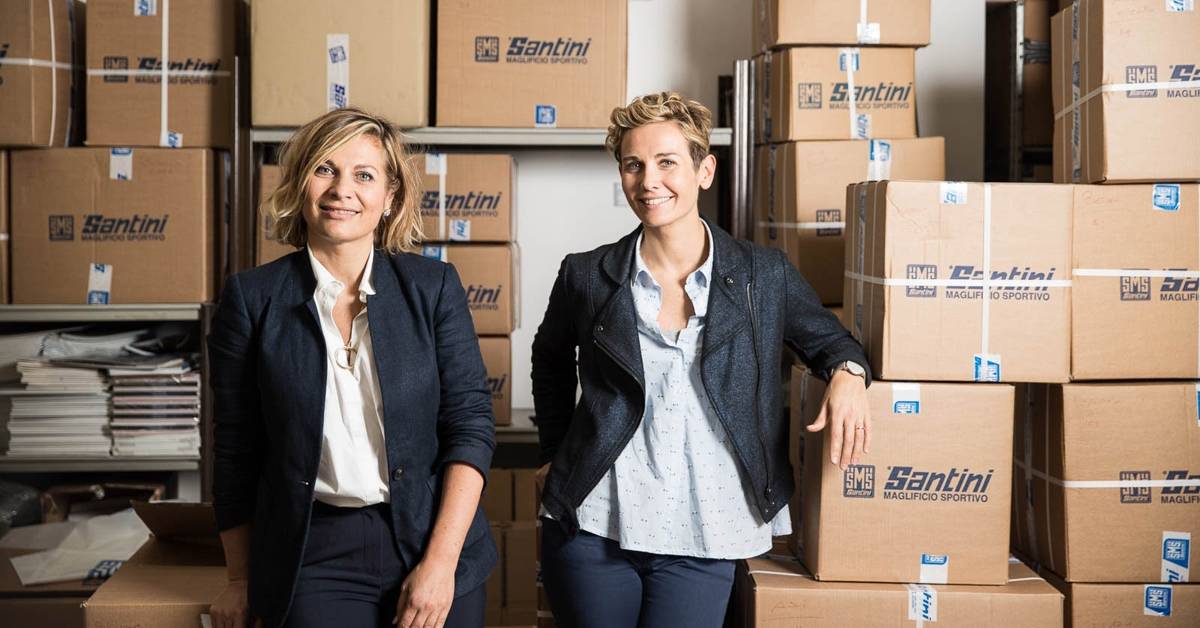 As it happens the two women behind Santini (Monica and Paola Santini, pictured above) were also at Rouleur Classic.
This has been a big year for them too, with the company celebrating 30 years of collaborating with the UCI, world governing body of cycling, for the production of World Championship jerseys.
Santini have been designing clothing for the biggest teams in cycle racing as well as numerous cycling clubs and individuals since 1965 when they began producing cycle clothing.
These two sisters from Bergamo, Northern Italy, who took the helm of the company when their father Pietro (above) stepped down 5 years ago, are down-to-earth and really passionate about providing good quality cycle wear for female cyclists.
I, together with my sister, Paola, are the owners - and 97% of the employees are women
I managed to catch up with Monica Santini, the CEO (left in the pictures), who told me about their work in women's cycling:
"Lizzie was one of our athletes even before, when she was riding for team Boels Dolmans and we were already sponsoring the team.
"We liked Lizzie a lot for everything that she does and what she represents for women's cycling.
"So we approached her asking if she ever thought about doing something in the industry. She liked the idea of the work that we had done previously for another big rider, Anna Meares [Australian Olympic Track Sprint Champion].
"We had created with her an Anna collection, and Lizzie was keen to get involved in this project, so we created with her, this Lizzie for Santini collection.
"Santini is actually a company of women. I, together with my sister, Paola, are the owners - and 97% of the employees are women.
"So it's strange that in an industry which is mainly made up of men, we are a company with so many females. We really are rooting for women's cycling to grow more and more and we all are ourselves riders, so of course it is natural to think that we want to create clothing that we like.
"And if we like the things we create, hopefully other women will like them too.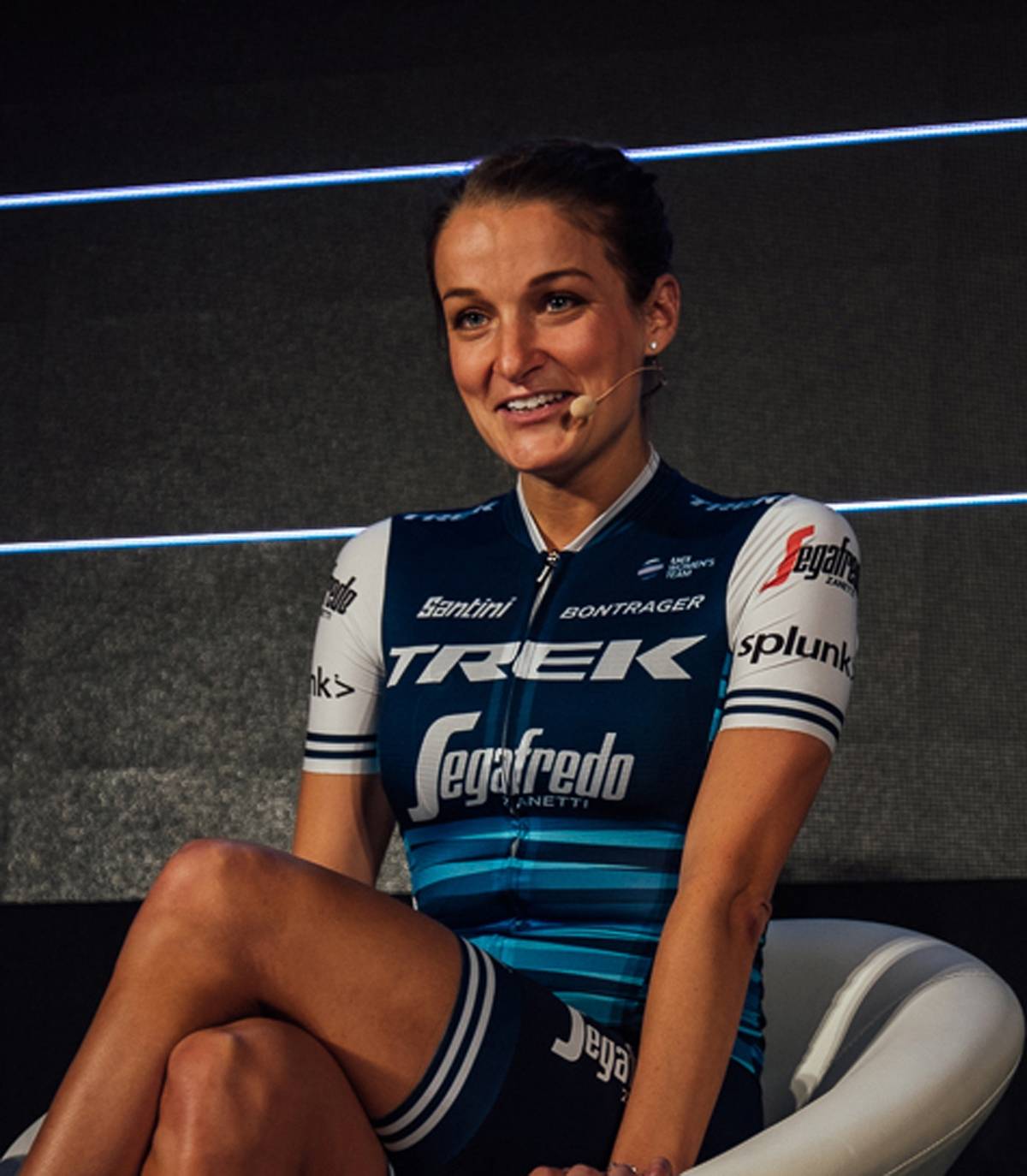 "The fact that we now sponsor what I'd say are the two biggest women's cycle racing teams – Boels Dolmans and Team Trek Segafredo – underlines our belief that women's cycling is growing.
"We really hope that this will drive many more women to start cycling if they're not doing so already; and of course they would like to wear good clothing when riding their bikes."
I have to say, I do like the Coral long-sleeved jersey; and I will always think of Lizzie Deignan whenever I see a peacock from now on!